Some of you may remember the classic game of Scavenger Hunt from Milton Bradley. The game was made popular in the 80's. Well, the game is back for a new generation of kids to enjoy. Scavenger Hunt For Kids by University Games puts a twist on the classic game of search and find.
How to play Scavenger Hunt for Kids
To play, children turn over 6 cards and race around the house to find all the objects on the cards – such as "Something that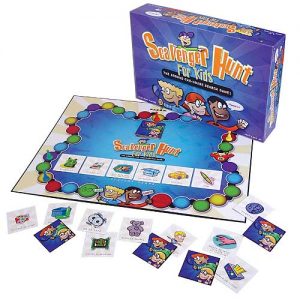 begins with the letter M", "A book with more than 100 pages", "A picture of a smiling person" etc.
When time expires, players count up what they've found and move their pawns 1 space for every object retrieved. If a player lands on a "Captain Cleanup" space then everyone must race to put everything they've found so far back where it belongs. The first player to move his pawn across the finish line wins.
You can easily adjust game play for younger players.watch Piper movie online now
Overall this is a really fun game for family game night, which gets everyone up and moving. It is quite the work out. Just be prepared for a major clean-up as objects from around the house start piling up in the kitchen.
About University Games
Founded in 1985, University Games has developed and manufactured over 500 games, puzzles, and children's learning and activity sets. The company philosophy has always been to offer products that encourage fun, creativity, and imagination for kids, families and adults. The company offers a wide array of products under the University Games®, Briarpatch®, BePuzzled®, U-Create™, Great Explorations® and Front Porch Classics® brands.
Website: universitygames.com