Whether you're hosting your having your family over for the holidays or just looking for some winter boredom busters you and your family will love this game from University games. Almost everyone I know has played charades. University Games Kids On Stage Charades is such a fun way to get the kids moving and using their imagination!
The game comes with Game board with spinner, 6 playing pieces, 20 red action cards, 20 green object cards and 20 blue animal cards. University Games Kids On Stage Charades is tailored to the skills and needs of the littlest player. As there is pictures on each card, so the game takes no reading skills at all.
How to Play Kids on Stage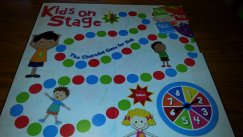 On each turn, a player spins the spinner, advances the number of spaces to a colored spot on the board, draws a card of the same color, then has to act out whatever picture is on the card. The prompts on the cards are varied and range from skating, to fishing, from a alligator to a umbrella Younger kids on the spectrum might not know what some of the pictures are and need some assistance from mom or dad. For example my daughter who is 3 did not know what tennis was or the action hammering a nail.
She didn't quite get the concept  that she had to act out each picture, so we have been playing the game in teams until she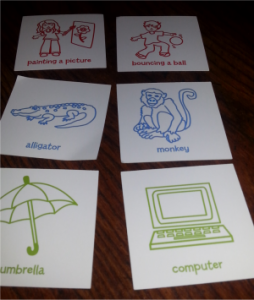 gets the hang of things. The nice thing about this game is that there is no winner. The game play continues until all players have reached the finish.
The cards in the game can also be used as flash cards to teach preschool age children simple action words. Because my daughter does not quite get the concept of the game, we are using the cards for speech therapy and we are practicing acting out each card to help her better understand.
Overall, Charades is a great way to get kids thinking creatively, moving about and thinking out of the box.
Check out more suggested games for the holidays in our Christmas gift guide. We make Christmas gift giving easy!
About University Games
Founded in 1985, University Games has developed and manufactured over 500 games, puzzles, and children's learning and activity sets. The company philosophy has always been to offer products that encourage fun, creativity, and imagination for kids, families and adults. The company offers a wide array of products under the University Games®, Briarpatch®, BePuzzled®, U-Create™, Great Explorations® and Front Porch Classics® brands.
Website: universitygames.com