Did you know that magnetic letters are a powerful literacy learning tool? If you have a little one learning their ABC's or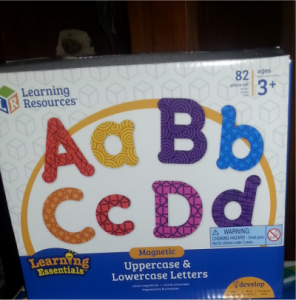 learning to read, a magnetic letter set makes a wonderful inexpensive gift. There's all kinds of things you can do with a set of magnetic letters! Using magnetic letters daily can help young children in preschool begin to internalize the shape and feel of letters. There are lots of magnetic letter sets on the market. Choosing a set is the hard part. We own a set of magnetic uppercase and lowercase letters from Learning Essentials.
The letters in this set are thick and a nice size for small hands to use. The set includes 26 uppercase letters, and 56 lowercase letters (including 4 of each vowel). The letters have full magnetic backing, so there is no worry about a small magnet falling off posing a potential choking risk. Each letter features a bright colorful fun pattern.
These letter magnets are so versatile no matter what level your child is at.In addition to teaching my daughter letter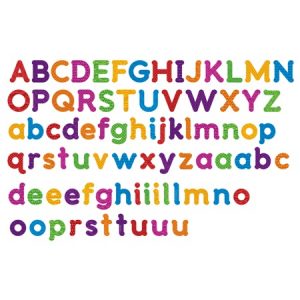 recognition and an introduction to reading, I tend to use the magnetic letters to teach her the various sounds that each letter or letter combination stands for.
Magnetic letters is really one product that grows with your child. As she gets older I can use the letters to work on spelling out words.
You may not have noticed it, but traditional cookie baking sheets are magnetic. Why not recycle a cookie sheet into a magnet board. Kids will love sticking the magnet letters to the board. You can even purchase some magnetic spray paint and paint the cookie sheet a fun color.
Magnetic Upper & Lower Letters can be purchased at learningresources.com for a retail price of $19.99.