Your 4-year-old is quite the little girl now. She has favorite toys and characters and has already probably picked out what she wants for the holidays from Santa. There is a good chance there is a Disney Princess toy somewhere on her list. With a total of 11 princesses, the series is popular among young girls.  From Snow White to Tiana, Disney princesses have been a favorite for girls for generations. Almost every little girl has one or more Disney princesses as her favorite. Explore the enchanting world of Disney Princess, with these Disney Princess Toys from Hasbro.
Just in time for Christmas comes the ultimate play set from Hasbro. This castle is the ultimate gift for any fan of Disney Princess. The enchanting play-set is over 3 feet tall and features 4 furnished rooms of fun! Each room is themed around a Princess — Snow White's kitchen, Belle's library and ballroom, Sleeping Beauty's bedroom, and Ariel's bathroom. Hasbro has stepped things up a notch on this castle with a working Magic Carpet! A lever raises it up and it spirals down to a graceful landing. What more could a princess ask for?
Someday My Prince Will Come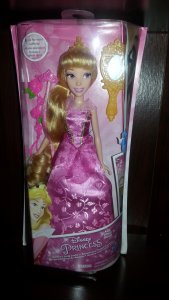 Designed for children ages 3-years and up, Disney Princess Long Lock dolls boast true-to-character colors and features, just like in each beloved movie the Princess is the star off.  Princess Aurora (often known as Briar Rose) appears to us from Disney's classic film Sleeping Beauty. Aurora is radiant as ever in her iconic ball gown. The gown is removable, as is her gold tiara and pink glitter shoes. She also has long and flowing, silky hair and comes with an oversized brush, which makes for tons of hair styling fun! My daughter will delight in styling Aurora's hair with the accompanying shimmery hair extension  decorative clip. And my daughter can also use the hair extension piece in her own hair.
Once again, Hasbro has done a fantastic job of getting Aurora's features surprisingly close to her movie-self. I am looking forward to combining this adorable Disney Princess Long Locks doll with other Disney princesses in the collection as I watch my little princess engage in hours of pretend play.
Disney Princess Little Kingdom collection
For girls who might like a smaller Aurora doll, there is the Disney Princess Little Kingdom collection. These dolls are small enough to fit in a child's hand. With the help of the 3 fairies, Aurora prepares for a night of dreaming about her true love's kiss. Aurora's Fairytale Dreams is conveniently packed in a plastic carrying case for easy storage and play-and-go fun. The set includes the 3 fairies, a canopy bed, a nightstand with snacks, and Aurora. The doll comes dressed in a removable plastic bodice, skirt, and peplum.
Be sure to visit Hasbro Toy Shop or stores where Hasbro products are sold, for other Disney Princess gift ideas.
About Hasbro
Hasbro, Inc. (NYSE:HAS) is a worldwide leader in children's and family leisure time products and services with a rich portfolio of brands and entertainment properties that provides some of the highest quality and most recognizable play and recreational experiences in the world. As a brand-driven, consumer-focused global company, Hasbro brings to market a range of toys, games and licensed products, from traditional to high-tech and digital, under such powerful brand names as TRANSFORMERS, PLAYSKOOL, TONKA, MILTON BRADLEY, PARKER BROTHERS, CRANIUM and WIZARDS OF THE COAST. Come see how they inspire play through their brands: Hasbro.com.