Looking for a baby doll for your daughter? Look no further than the Adora doll collection. With age ranges from newborn on up to age 6 +, you will find the perfect doll that will grow with your child. Whether it be bath time fun, or just good old fashion roll playing. Adora dolls have a doll to suit your needs. Adora dolls are offered in different sizes from small dolls, up to 18 inch dolls, so that young mommy's can find that perfect baby.
Since its founding 20 years ago this award-winning toy company has won accolades from DOTY, Parent's Choice, The National parenting Center, Creative Child Magazine, TillyWig, Dr. Toy, and Toy Man.
Adora Bathtime Baby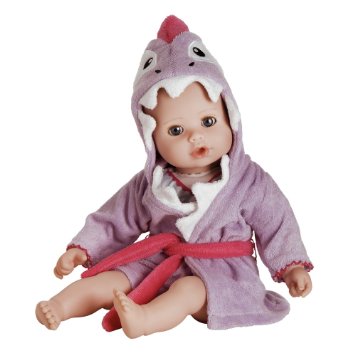 A good example of Adora dolls is Adora Bathtime Baby. Adora Bathtime Baby comes in 6 different animal themes. The dolls are the perfect bath time baby doll, for toddles 1-years and up. We have BathTime Baby Shark.  Owl, frog, bear, sock monkey or elephant are also available. Each doll is sold separate.
This handmade 13 inch dolly comes with a wash cloth and shark bath robe that removes to find a super-cute swimsuit printed body. She'll love drying her baby off with the soft terry animal themed bathrobe and washcloth. The dolls exclusive "QuikDri" technology allows the cloth body to dry quickly. When play time is over simply hang the doll to dry. Adora Bathtime Baby is completely dry within an hour after being removed from moisture.
Nurturing and pretend role play is an important part of a child's development. Adora Bathtime Baby satisfies children's need of role playing.
With open and close eyes and a fresh baby powder scent, we found her to be the perfect first baby doll with her adorable life-like features. When bath time is over and after baby has had ample time to dry, your daughter won't be able to resist snuggling with BathTime Baby Shark bean weighted bottom giving her a real baby feel.  Adora Bathtime Baby is completely dry within an hour after being removed from moisture.
Adora PlayTime Baby Little Princess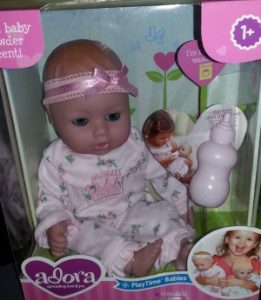 Adora's PlayTime Baby Line is geared for ages 1 and up and has several different styles available. Weighing in at only 12 ounces, the PlayTime Baby Little Princess doll is super light weight for small kids to carry. She has eyes that open and close . She can also suck her thumb for realistic nurturing and play. Her removable pink floral sleeper is embellished with embroidered "Princess" and crown. Upon taking her out of the box,  she has a scent that greets your nose. The scent is suppose to be baby powder, but it smells more floral in our opinion.  Baby Princess is the perfect toy for cuddling with her bean weighted bottoms which gives her the feel of a real baby.
Baby Little Princess is is Hypo-Allergenic and even Machine Washable. She comes with a bottle for pretend play.
Adora grows with your child!  Unlike other doll lines, Adora has a doll for whatever stage your child is at. They have dolls for babies, toddlers, young girls, older girls, and they even have collectible dolls for adults.
Adora is a division of Charisma Brands, LLC is a Laguna Hills, California-based designer, developer, and marketer of award-winning dolls.  The Company's products can be found in specialty retail stores throughout the world, and online at www.adoradolls.com and also at www.paradisegalleries.com
It's time for a Jolly Dolly Holiday Giveaway! Adora is awarding one Adora doll per day for 25 days to lucky winners chosen at random! You must enter daily for a chance to win that day's doll. Winners will be announced on their Facebook page. Enter here: https://goo.gl/hhezZP Giveaway is only open to U.S. residents only.