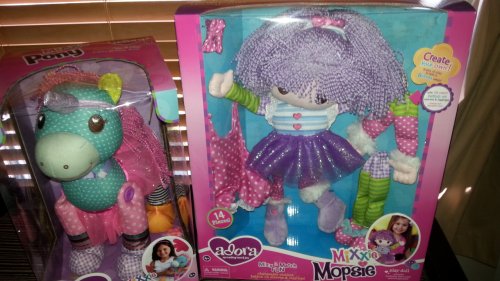 Mixxie Mopsie is a 16″ soft doll that currently comes in two different versions, "Jazzy Sparkles" and "Hugsy Daisy."
Jazzy Sparkles arrives sporting a fluffy purple tutu with pink and white polka dot tights. Her large velour boots feature a white faux fur trim and a sweet pink heart is embroidered on the front of each boot.
Her face is just adorable, with large brown eyes and "heart" sparkles, tiny little ears and a small sweet pink smile. Girls can fashion her purple hair using the pink and white polka dot hair tie or two identical hair clips for pig tails. Her soft blue stripe knit body features pink heart embroidery.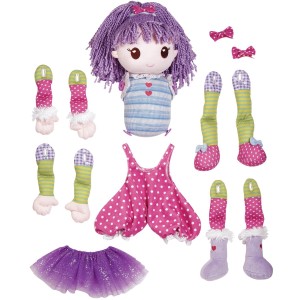 The legs and arms are each attached using a large colorful button which encourages fine motor skills and imaginative play. There is an additional set of arms made out of pink and white polka dot knit fabric. The arms come complete with warm white mittens for keeping "Jazzy Sparkles" warm during frosty winter play.
Jazzy also comes with an extra set of legs, featuring green tights. Her darling pink shoes have tiny white hearts on them and a velour pale blue bow.  Both the arms and legs are easy to attach and remove by little hands.
Mixxie Mopsie also comes with a pink and white polka dot romper that provides an interchangeable outfit for your little ones to dress Jazzy in.
Mixxie Mopsie Pony
My almost 4 year old daughter loves horse and has for sometime now.  Standing 15′ the absolutely adorable Adora Mixxie Mopsie Pony is a nice size.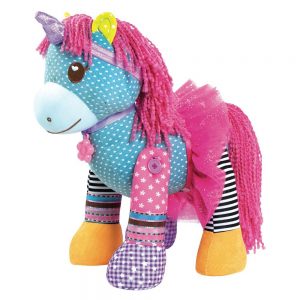 Button closures on the pony help kids practice fine motor skills while encouraging mixing, patterns and colors.
Mixxie Mopsy comes with 11 pieces including: 4 interchangeable legs, 2 decorative leg bands, magical unicorn headband, sparkly tutu, flower necklace, pony tail clip hair accessory, and, of course, her pony body. The body on Mixxie Pony is super soft and durable. Mixxie pony has enough structure that she can even free stand all on her own! Both the mane and tail are long enough for little girls to braid.
Learning to pass a button through a button hole is no easy task for younger kids. Both doll and pony will strengthen my daughter's fine motor skills. And best of all both Jazzy and pony are soft enough for her to sleep with.
What do you think?
Adora is a division of Charisma Brands, LLC is a Laguna Hills, California-based designer, developer, and marketer of award-winning dolls.  The Company's products can be found in specialty retail stores throughout the world, and online at www.adoradolls.com and also at www.paradisegalleries.com