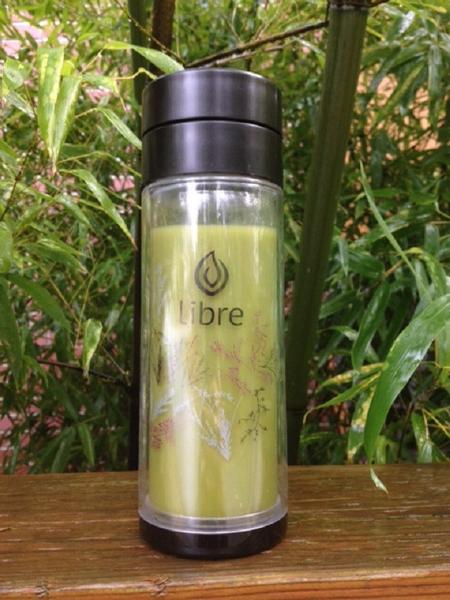 This upcoming holiday season we have the perfect gift idea to help you express your gratitude to the woman that adds the nourishing touches to your family. We understand that life is busy; from home to the office- Mom doesn't always get the chance to enjoy that beloved cup of tea. For the busy mom on the go, we bring you the newest member of the Libre family the MatchaGo shaker glass.
With its 9oz size and fine mesh removable stainless steel filter, the MatchaGo shaker is perfect for quick, smooth, & frothy Matcha – hot or cold!
Just like the other Libre products, the MatchaGo Shakers are high-quality and decorated with a stylish floral design that is in tune with Mother Nature.
With the same clean glass interior and durable BPA-free poly exterior as all Libre models, this shaker glass makes staying energized quick & easy. What a mess saver. No more whisk and bowl, just shake and go-anytime, anywhere!
Just add 1gram of matcha powder, hot or cold liquid of choice, shake, and go! Great with hot water, coconut, or almond milk!
This Christmas give the benefits of Matcha. Busy Matcha fans on the go deserve a glass full of delicious. If you haven't had matcha tea, then you are missing out on a nutritional drink. Did you know: Hot liquid brings out bitterness in matcha, whereas cooler liquids bring out its sweetness.
Librea Tea glasses are not just for mom, they make great gifts for any tea drinker. My son an avid tea drinker would truly be lost without his Libre Tea glass.
The infusers are easy to care for, just wash them in hot sudsy water and let them air dry. Do not put them in a microwave or your dishwasher.
You can purchase glasses, tea, and extra filters at https://www.librelife.com/