Are you looking for a unique gift for that special someone? Jim Shore collectibles make great gifts. And with the variety of options available, you are sure to find a figure your recipient will love.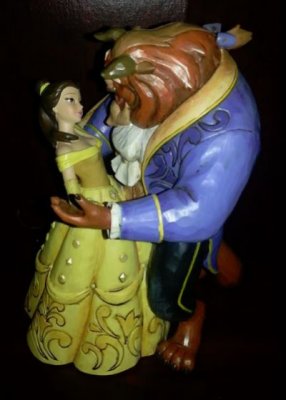 Shopping for one of Jim Shore's collectable figurines can truly put the fun back into gift giving. After receiving their first Jim Shore figurine, some people may even begin to start their own collectible sets.
Disney Traditions features all of Disney's classics such as Snow White, Tinker Bell and Fantasia to new Disney characters from much-loved Disney films, including: Tangled, The Lion King and my personal favorite- Beauty and the Beast.
Disney Belle & Beast continues the wonderful Disney Traditions series, which is one of the most popular and sought after Disney collectibles lines out there.
The enchantment of Beauty and the Beast,  and the festive artistry of Jim Shore come together in Moonlight Waltz.  Jim Shore celebrated the 25th anniversary of the Disney classic with an enchanting double figure inspired by the romantic ballroom scene where Belle and her suitor discover their love is a tale as old as time.
This is the second piece in the Beauty and the Beast Disney Traditions line that I own.  The piece reveals Jim's artistry and skill, in not only capturing the essence and magical qualities of  Belle and the beast, but also enhances his own unique American folk art-inspired style.
Peanuts fan gift ideas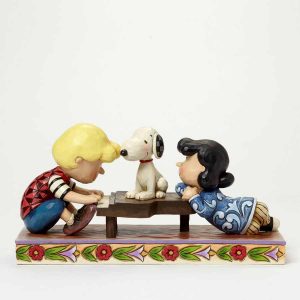 The lovable Peanuts characters have brought generations of families together, especially around the holidays. And now you can capture the art of Jim Shore, while spreading the love of the Peanuts to your Peanuts fan. This Schroeder, Lucy & Snoopy figurine is named Happiness is a Favourite Song. It forms part of Jim Shore's collection of Peanut sculptures.  It is the perfect gift for Peanuts lovers and Jim Shore collectors alike.
Cast poly resin molds of hand-crafted sculptures are exclusively designed by Jim Shore for Enesco. The molds are then individually hand-painted by trained artists using folk art techniques. Jim's attention to detail and involvement in the entire developing process ensures that each figure has the look and feel of real wood.
From his most popular angels, and animal figures, to Santa, to  Disney favorites, your recipient will fall in love with Jim Shore.
For more information, visit: enescocanada.com