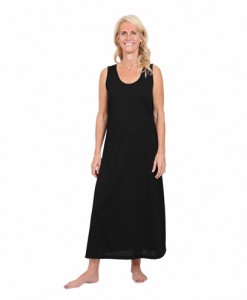 Wondering what to buy mom for Mother's Day? If your mom is between the 45-55 age bracket, chances are she is facing the natural experiences of Menopause. As natural as it is, it is a time of life that most women dread. It's presumed that 3 out of every 4 women encounter some sort of hot flash or night sweating illness while entering into the menopausal phase of their life. These physical symptoms, often rob women of their ability to sleep properly. While there are some natural remedies that are particularly useful in helping treat menopause night sweats, moisture-wicking sleepwear can aid in minimizing the low level of comfort that a hot flash or night sweat creates.
Cool-jams, state-of-the-art moisture wicking pajamas, and nighties lets moms sleep easy. Their wicking sleepwear is manufactured from 100% polyester microfiber yarn, which is knitted into the fabric. The fine-gauge knit fabric, feels similar to bamboo with a silk feel. The materials does not soak up moisture; instead, they transfer perspiration away from a woman's skin and into the outermost area of the sleepwear. The portion of the material next to her skin remains dry and comfortable.
I own the "Cool-jams Moisture-Wicking Long Tank Gown," which is a full-coverage nightgown featuring a slim-fitting bodice with tank-style straps and an ankle-grazing skirt that covers my legs without looking frumpy. It comes in lilac and black, as well as sizes small up to 3x. The gown is so comfortable that I could live in it all day. I also found it to be rapidly absorbed and evaporated moisture.
Cool-jams Wicking Sleepwear and is also perfect for the hot summer hot nights and travel. The sleepwear is compact, lightweight, wrinkle resistant and quick drying.
Cool-jams  also now offers temperature regulating bedding.  Now mom can experience the best night's sleep possible with cooling sheets, cooling mattress pads, cool pillows and blankets. Cool-jams is mom's solution to a perfect night's sleep.
In an effort to give back, Cool-jams also donates a percentage of its profits to women and child-centered charities so each purchase is helping others in need. Its online store makes ordering easy, and with low prices, high quality and quick shipping, it's the perfect place to shop for the perfect Mother's Day gift.
Visit http://www.cool-jams.com to see its full line of quality-guaranteed moisture-wicking sleepwear and bedding, from cami-strap nightgowns, to boxer pajama sets, bathrobes, pillows and more. Be sure to check out their Mother's Day gift guide and don't forget dad. Cool-Jam also offers wicking sleepwear for men.