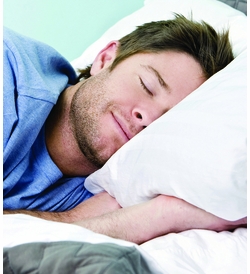 We normally associate night sweats to women, but men get night sweats as well. Men undergo a form of 'male menopause' or 'andropause' in which a drop in hormone levels causes extreme sweating. Apart from andropause, stress and anxiety, too, have been cited as a leading cause for night sweats in men.
When going to bed, it may help to cool the bedroom using an air conditioner or fan and wear wicking sleepwear.
Wicking sleepwear treats sleep disruptions caused by night sweats with the use of high-performance fabrics that dries your skin and moves moisture away.
Cool-jams, one of America's most innovative technical apparel companies, offers a collection of moisture wicking sleepwear for men.
Their wicking sleepwear uses a 100% polyester microfiber yarn, which is knitted into the fabric. The fine-gauge knit fabric feels

similar to bamboo.
Sizes range from m-xxl and all sleepwear comes in steel-gray, navy and black.
My husband owns a pair of Cool-jams moisture wicking boxer separate, which feature an elastic waist with button front fly and provide a slim fit to ensure comfort.
He found them to be perfect for summer travel, as they are light weight, packs in practically no space, are wrinkle free, and if needed can be washed and hung to dry in a very short time. He also found the boxers kept him dry and comfortable at night just as the company claims,
At $43.00, a pair of boxers from Cool-Jams may feel high-priced, but it's worth the investment for a cool night's sleep.
Their line of wicking pajamas for men would make the perfect father's day gift for the man who is dealing with night sweats.
Cool-jams Wicking Sleep Products are changing the way people sleep. Learn more about their moisture wicking pajamas, moisture wicking sleepwear, cool mattress pads, cool bed sheets, cooling pillows and cooling blankets at cool-jams.com.<
Save 10% off Cool-jams men's sleepwear with promo code COOLDAD.
Cool-jams proudly donate a percentage of every sale from their sleepwear to charities helping women and children around the globe.