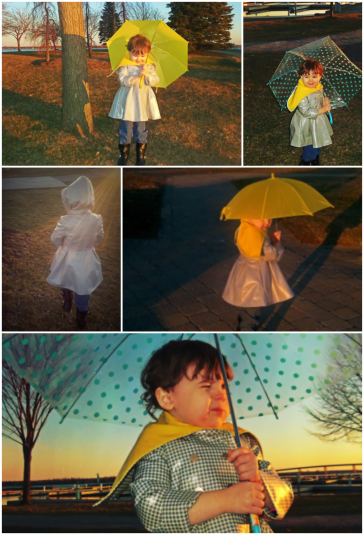 Oil & Water kids' rain coats allow your littlest fashionistas to be carefree and fun loving even when the skies bring April showers!  A little rain won't dampen my daughter's style when she is decked out in her Grey Houndstooth rain coat. The Audrey Coat is the perfect mix of fashion and function. This rain coat is so chic, I wish that the Audrey Coat came in adult sizes.
On rainy days I don't have to worry about her little head getting wet, because the jacket is carefully designed to fit snugly, featuring a show-stopping dramatic yellow collar that zips into a protective hood.
The houndstooth fabric is lightweight and crafted from high quality water-proof and water-resistant fabric, and is washable for easy care.
For buying purposes and to see fit, my daughter is wearing a size 2-3, which is 28 to 35 lbs . Oil and Water handy size chart will help insure that you order the proper size. My daughter is sadly, just growing out of her jacket, but we manage to get a few photos before we pass it on for another girl to enjoy.
If you are a mom of a daughter, then you know that there are not a lot of choices out there when it comes to a more sophisticated trench coat for girls. Oil and Water knows that mom is not always looking for a character raincoat, not that there anything wrong with character raincoats. But just as women need a good trench coat, there are times when your daughter needs sophisticated rain-wear.
Oil & Water delivers, offering exquisite rain wear for children sized 2-14. Every piece in their collection will have you wishing for rain! Prices start at $95 and are available on oilandwater.com.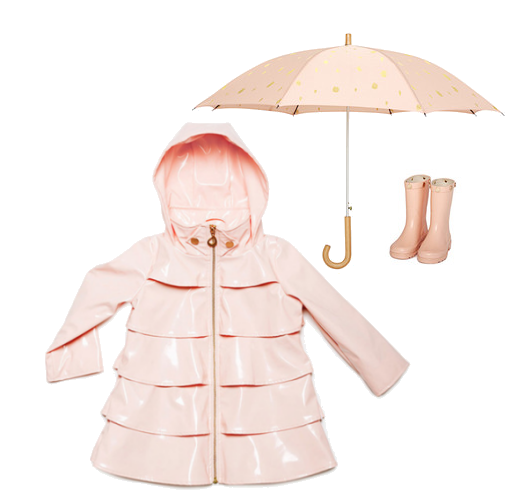 In addition to their wide variety of stylish and unique raincoats for both girls and boys, Oil and Water offers rain accessories like boots and umbrellas. Some even come as gift sets making rainy days a bit more fashionable.
When skies are grey… they will SHINE in Oil and Water.