Step up your walking game this spring with a good pair of quality walking shoes from Columbia Sports. Columbia offers a wide variety of outdoor performance footwear.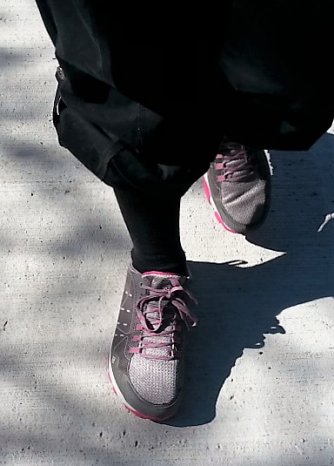 Recommend for hiking and trail running; designed to perform across changing terrain, one of the lightest member of the Conspiracy family, the Razor OutDry is also the perfect walking shoe.
My daughter suffers from Orthostatic hypotension , which can cause her to feel light headed and dizzy, which leads to falls. In addition to the sometime use of mobility aids, finding her proper fitting footwear was crucial, especially when she does a lot of walking as part of her physiotherapy.

She found Columbia's Women's Razor OutDry to be a nice lightweight shoe and the toe box is very roomy. She felt comfortable in her shoes right away. They were the perfect fit and didn't leave any blisters. She really liked the cushioning,  ventilation and the grip of the shoes.
The Techlite™ midsole has been engineered specifically to provide superior cushioning and comfort whilst absorbing impact and providing consistent support.
For those that do a lot of walking or hiking, perhaps the most impressive thing about the Conspiracy Razor Outdry shoes is that they are 100% waterproof. While we wouldn't recommend using them as water shoes for the lake,  they will withstand any rain or puddles that you might walk in. 
Head over to Columbia to check out these great shoes. They are also available in a men's style as well. Father's Day isn't too far away from Mother's Day.

About Columbia Sportswear Company
Columbia, the flagship brand of Portland, Oregon-based Columbia Sportswear Company, has been creating innovative apparel, footwear, accessories and equipment for outdoor enthusiasts since 1938. Columbia has become a leading global brand by channeling the company's passion for the outdoors, and an innovative spirit of "trying stuff", into technologies and performance products that keep people warm, dry, cool and protected year-round. To learn more, please visit the company's website at www.columbia.com.