The very first Christmas with a new baby in the house is a very special holiday indeed.  However, babies are a little bit trickier  when it comes to gift giving. Well, never fear, we have some baby friendly stocking stuffer and gift ideas that are perfect for the littlest member of your family.Watch movie online The Transporter Refueled (2015)
MAM Pacifier Clips
Safe and secure
the Glow in The Dark Pacifier Clip Set comes with 3 Mam adapters, which work great with mam pacifiers or Nuk pacifiers. These pacifier clips are safe and have no BPA, lead and phthalates. The ribbon is made of poly satin and the glow factor makes them easy to see in the dark. The clips are machine washable, but the manufacturer does warn against using hot water in your washing machine, as it may wash away the glow factor. The same is said for harsh detergents. You can always hand wash them and hang them to dry. To purchase your very own Glow in the Dark Pacifier Clip Set for Girls visit Amazon.ca. A set is also available for boys.
Musical Bunny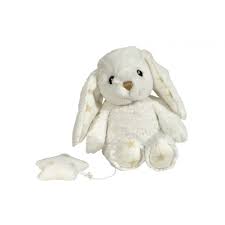 All three of my kids have loved having white noise. It has been a tremendous help as they have learned to sleep. Hugginz™ Musical Plushie Bunny from Cloud b makes the perfect gift. At only 8″, Hugginz is small and light enough to hang from the crib rail , car seat or bassinet by its adjustable velcro loop strap. Lullabies play by pulling a cord on the Plushies back which activates the secret sound box. The melodies are soft and soothing to help calm a fussy, teething baby or a little one who fights sleep. So much more than a regular stuffed animal, these super soft and snuggable Hugginz Musical Plushies come in Bear, Bunny, Sheep and Monkey styles and retail for only $24.99. (dogree.com)
Holiday Bibs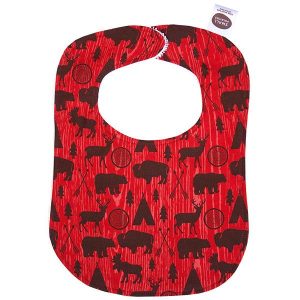 Any parent will tell you the importance of having a clean bib on hand. These bibs from Small Potatoes will have them looking stylish and avoid drool all over their cute little holiday outfits. The lightweight cotton bib features an absorbent terry backing and Velcro closure. There are over 20 bibs to choose from with my personal favorite being the High Adventure Bib, which features images of moose, bears, deer and buffaloes.  (small-potatoes.ca)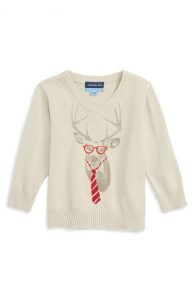 The bib would look super cute paired with this Reindeer Sweater and a pair of twill pants from Evan and Andy.  (dogree.com)
MLB and NFL themed baby toys
The Denver Broncos Push & Pull Toy is a great Christmas gift for parents who are also Denver Broncos fans.  This wooden toy is great for young babies to play with and is great for take-along engagement. The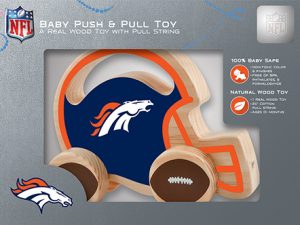 wheels of the car feature super cute footballs, while the toy itself is in the shape of a football helmet. You can combine this with the Denver Broncos Rattle Set, sold separately. Also available from Masterpieces Puzzle Co. are other MLB- and NFL-themed baby toys, which are sold separately.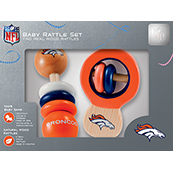 Baby Stuffed Animals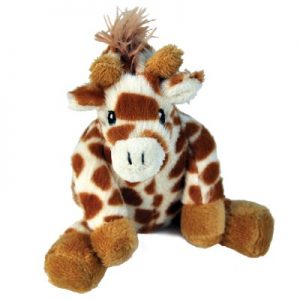 Small stuffed animals make a cozy addition to Baby's Christmas stocking and we are fans of Cloud B. This Giraffe is not only a cozy stuff, but it doubles as a rattle too, which babies will love.
Mitten Clips
If you've ever experienced the disaster of losing your baby's mittens then you'll appreciate mitten clips.  They are the perfect stocking stuffer and Small Potatoes have several cute designs for both boys and girls. (small-potatoes.ca)
What would you add to our list of suggestions for baby's first Christmas?