The first Christmas with your precious little one is an unforgettable milestone worth celebrating with the perfect gift. From keepsakes that capture cherished memories to practical gifts that enhance their daily routines, there are plenty of options to make your baby's first Christmas truly memorable.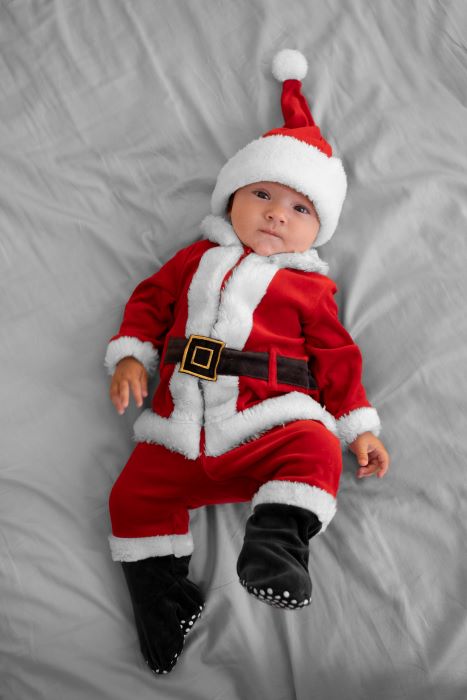 Personalized Keepsake Ornament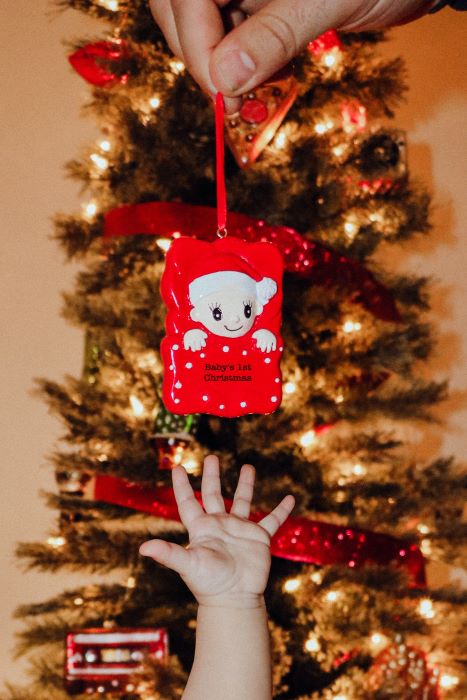 Commemorate your baby's first Christmas with a personalized keepsake ornament that will adorn your family Christmas tree for years to come. Look into getting your babys first Christmas ornament personalized by choosing an ornament with their name and the year engraved. This personalization captures the essence of this special moment in time. From classic ceramic designs to adorable handcrafted wooden ornaments, there are plenty of options to match your style and preference. Every year, as you decorate the tree, you'll be reminded of the joy and excitement of their first Christmas.
Baby's First Christmas Photo Album
Create a precious keepsake by assembling a thoughtfully curated photo album dedicated to your baby's first Christmas. Capture their first encounter with Santa Claus and their fascination with twinkling lights. Include heartfelt captions beneath each photo to complement the visual story, creating a time capsule of memories that can be cherished for years to come. As your child grows older, this album will become a cherished family heirloom, fostering a sense of belonging and love. Involve other family members to add multiple perspectives and create a collaborative keepsake. Store the album in a cool, dry place away from direct sunlight, regularly flipping through the pages to preserve its pristine condition. This photo album will hold an irreplaceable place in your family's heart, connecting generations with the magic of the holiday season and the profound love that binds you all together.
Personalized Christmas Stocking
Add a touch of personalization to your family's Christmas traditions with a special stocking customized for your baby. Choose a soft and cuddly stocking featuring their name or initials, creating a sense of belonging and inclusion in the festivities. Hang it by the fireplace or at the foot of their crib, and watch as it becomes an integral part of your holiday traditions year after year. The personalized stocking carries symbolic significance and serves as a heartwarming reminder of your baby's first Christmas. As your child grows older, it becomes a cherished keepsake, carrying sentimental value and joyous memories, possibly even evolving into a family heirloom passed down through generations, symbolizing the continuity of love and joy through the years.
Baby's First Christmas Outfit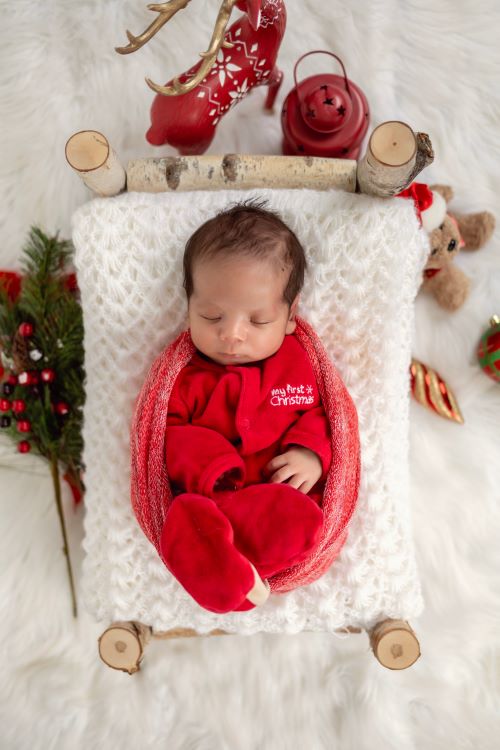 Dress your little one in style for their first Christmas with an adorable and festive outfit that adds to the joy and merriment of the celebration. Choose from a variety of cozy onesies featuring reindeer motifs or tiny dresses with Santa Claus prints, ensuring their comfort and practicality throughout the day. Capture the cuteness of their festive ensemble with plenty of photographs, creating cherished memories to look back on as they grow older. Consider arranging a special photo session dedicated to capturing their holiday outfit in all its glory, preserving the magic of their first Christmas in professionally taken pictures. Additionally, keep a small piece of the outfit's fabric as a keepsake in a memory box or scrapbook, alongside other mementos from their first holiday season. As you dress your baby, cherish the joy and wonder of this special occasion, knowing that these moments create the foundation for treasured memories that will hold a special place in your heart and become a part of your family's cherished Christmas traditions.
Interactive Baby Toy or Book
Enhance your baby's sensory experiences with an interactive toy or book designed to stimulate their curiosity and development. Look for age-appropriate toys that offer textures to touch, sounds to hear, and colors to see. Interactive books with flaps to lift or textures to explore make for delightful gifts that encourage bonding and learning during playtime. Additionally, consider toys that promote motor skills development, such as activity gyms with hanging toys or soft blocks for stacking and grasping, providing your baby with endless opportunities for exploration and growth.
Your baby's first Christmas is an enchanting time filled with love, joy, and new beginnings. By choosing thoughtful and memorable gifts, you can make this holiday season even more special. These carefully chosen gifts will serve as reminders of the happiness and excitement you felt as you shared this special holiday season with your precious bundle of joy.