Dream Buddy's Bunny and Hugginz™ Musical Plushie Bunnny from Cloud b are furry companions that will be around long after the Easter bunny has arrived.
When you're a parent of a child under 6 it can feel like you move from one sleep problem to the next. Bedtime fears – the dark,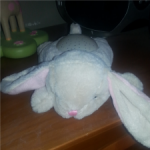 monsters under the bed, and sleeping alone – are all common fears. For my daughter, a night light started to seem important at 6 months old and now that she is three and has discover monsters, it is essential that there not be one, but several in her room.
Dream Buddy's Bunny is her newest night time companion. Dream Buddies are part of Cloud b's smaller and cuddlier line of bedtime soothing plush.The compact, ultra-plush pal helps ease her fears of the dark by projecting starry nights onto her ceilings and walls, while subtly changing colors. Cloud b's choices of colours have proven to provide better sleep for children with its soothing
effects.
Flip the on/off switch on the base of the Buddy to project three colorful constellations. To activate bunny, simply squeeze bunny's foot. After being pressed, the light lasts for about 45 minutes, which saves battery life and ensures complete darkness during my daughter's deep sleep, as recommended by pediatricians.
Unlike Cloud b's Twilight Turtle, which is designed to sit on a table or dresser, kids can snuggle up to their Dream Buddy as they drift off to sleep.
Even with the mechanism inside, the bunny is super cuddly and a perfectly sized travel companion as well.
Three AA batteries are required and included. Additional Dream Buddy characters include a dog and sheep.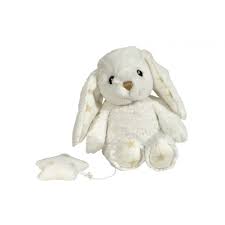 Celebrate baby's first Easter with Hugginz™ Musical Plushie. At only 8″, this plush is small and light enough to hang from the crib rail , car seat or bassinette by its adjustable velcro loop strap. Lullabies play by pulling a cord on the Plushies back which activates the secret sound box. The melodies are soft and soothing to help calm a fussy, teething baby or a little one who fights sleep.
So much more than a regular stuffed animal, these super soft and snuggable Hugginz Musical Plushies come in Bear, Bunny, Sheep and Monkey styles and retail for only $24.99.
About Cloud b:
Founded in 2002, the company is a pioneer in creating products and programs designed to help children sleep. Cloud b products soothe and comfort children, which, in turn, gives peace of mind to parents – and strengthens the bond between them. The company has become a trusted name with parents worldwide with award-winning products that are developed in consultation with an Advisory Board of pediatricians and specialists. Cloud b is best known for the popular Twilight Turtle™ and Sleep Sheep™.
Dream Buddy's Bunny and Hugginz™ Musical Plushie – Cream Bunnny along with several other wonderful Cloud B products are exclusively distributed in Canada by Do-Gree Fashions Ltd.