Despite hundred of babies being injured and even killed each year, dangerous baby products are still freely available for sale. Below is my list of the top five baby products you should avoid.
Crib Tents
The logic behind crib tents seem sound enough. A breathable canopy is placed over the crib to stop toddlers from climbing out and then falling to the floor. Cat owners also buy them to prevent their furry friends from smothering sleeping babies.
However, babies have become tangled in the tent netting and wind up suffocating. Recently, one poor infant suffered serious brain damage after being caught between the rods and mesh of the tent.
What Has Been Done:
Some models of crib tents have already been recalled. In fact, 20,000 units manufactured by "Tots in Mind" were recalled in 2010 following a toddler fatality.
Despite these tragic deaths though, and several investigations crib tents are still on the market.
Safer Alternatives:
Not using crib tents (or attaching anything to a crib) is always recommended by the American Association of Paediatrics. If your toddler is climbing out of the crib, it could well be time to move them to a toddler bed.
Cats should also be kept out of nurseries. This makes things much more hygienic and safer for your baby. If this is a problem, there are ultrasonic cat deterrents you can purchase.
2. Changing Tables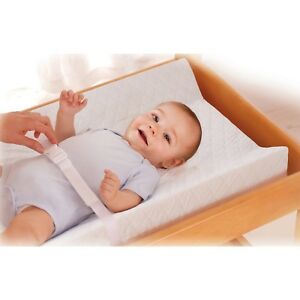 Another product that seems a good idea is a baby changing table. A flat surface that is easy to clean makes changing a squirming baby easy. Sadly, the reality is that hundreds of babies are injured each year due to falls from changing tables. This frequently results in fractured skulls and even death. Just this week, a baby in Des Moines, Iowa died when she rolled over and suffocated on the table. The mother is being charged with child endangerment after she left the room.
What Has Been Done:
Last September, the US Consumer Product Safety Commission (CPSC) met to try and formulate stricter safety standards for baby changing tables. As of right now a voluntary safety standard for manufacturers is not in force.

Safer alternatives:
Changing tables with four sides are safer for babies. Some also dip in the middle to make the sides higher and prevent falling. You can also buy ones which feature a safety harness to further secure your baby. Portable Changing Table Harnesses are also sold separate.
 Infant Sling Carriers
After a serious of deaths parents are being urged to make sure they correctly fit baby slings and carriers. Suffocation can occur if a baby's face becomes covered or if they are incorrectly positioned. Remember to keep your baby visible and insure  the baby's face is not pressed into the fabric of the carrier or into your chest.
The Best Baby Carriers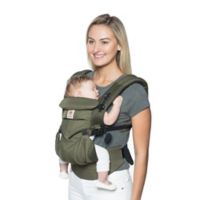 The BabyBjorn is a perfect baby carrier perfect for parents who want a quick, secure way to carry their little one. The Ergobaby 360 Carrier with Cool Air Mesh is my favorite carrier. While the carrier is suitable for baby 12 lbs to 33 lbs it does feature an infant insert which accommodates newborns 7-12 lbs.
What Has Been Done:
Just this week, the US CPSC has approved a new federal safety standard for sling carriers. The standard will be mandatory. The standard includes provisions such as ensuring baby carriers can safely carry three times the manufacturer's stated weight, pictures for proper carrying positions and structural integrity tests.


4. Baby Walkers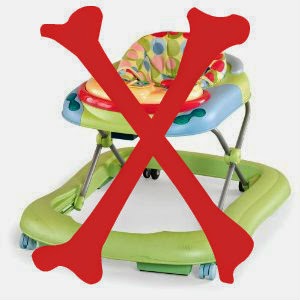 Canada is setting the standards when it comes to baby walkers.
After causing hundreds of injuries and quite a few baby fatalities, they were completely banned in 2004. Anybody caught selling them can be fined $100,000 and face 6-months in jail.
Meanwhile, in the USA they are still widely available.  In 2014 (the most recent statistics I could find) 2,900 children visited emergency rooms as a result of baby walkers.
Most of the injuries were caused by children getting into kitchens and grabbing hazardous items such as boiling water, knives, floor fans and chemicals.

Several deaths and severe injuries were also recorded where the babies rolled down flights of stairs and fractured their skulls. In Europe, they estimated that 90% of the injuries caused were to a baby's head. To date baby walkers have caused more accidents than any other baby product.
What Has Been Done:
Canada has banned them completely. America should  follow suit.
After the dangers of baby walkers hit the press, "Exersaucers" were marketed to replace them. These products have no wheels, but your baby can bounce, spin and move around them. For now, it seems a much safer alternative.
Baby Bath Seats / Chairs Amazingly, baby bath seats have been on the market since 1981. Dozens of babies have died as a result of using them. Yet, it wasn't until 2010 mandatory Safety Standard was brought forward to regulate bath seats.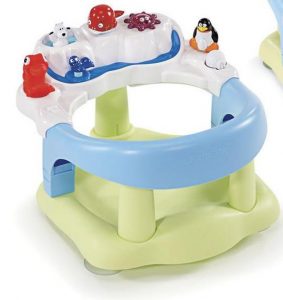 Even after bath seats became regulated, 14 baby deaths were associated with them between 2010 and 2012 alone.
The problems arise due to the leg holes being too wide or the suction cups failing. In October of last year, the Lexibook Baby Bath Seat was recalled. It failed safety tests for stability and for tipping over in the bath. Baby and all!

What Has Been Done:
Many of these seats have either been recalled or are no longer for sale. In addition to the mandatory safety standard of 2010, the CPSC is calling for a total ban. Let's hope it's successful!

Safer Alternatives:
Some people have suggested the smaller inflatable bath tubs that go in regular tubs to be a safer product. However, a lot of injuries have also been associated with these, too.
Author:
Sandy King is a mother of two and author of kidsaversnetwork.com, where she shares parenting news, advice and reviews for all parents and those expecting!