The Christmas season is such a great time to make crafts with your kids. Why not jump-start your child's creativity and get them into the Christmas spirit with these fun children Christmas craft kits from Peter Pauper Press. From cute ornaments to paper Nutcracker characters, these affordable craft kits are sure to bring hours of fun. It is a nice way to get them away from the electronics and exploring their artistic side.
Create pretty 3D Christmas Decorations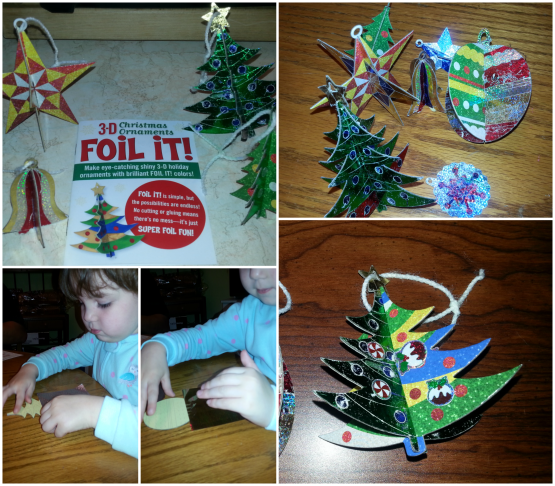 Recommended for ages 4 and up the Christmas Ornament Foil-It Kit includes three large and four small ornaments.
You first choose which 3-D Christmas ornament you would like to make and pop it out from the surrounding cardboard.
On the ornament , you start by removing the portion you want to foil. In order to 'color' the ornament you simply press the foil sheet onto the expose part of the ornament and rub lightly back and forth with your finger. The color from the foil sheet transfers to the ornament.
Once you complete one section, you then continue pressing additional colors on to your project, until you color the entire ornament . Very little pressure is required to transfer the foil color onto the ornament , making the craft incredibly easy for young children. Each ornament has cut out slots. Simply slot the two pieces of cards together for stunning effects. You decorate the ornaments further with stickers if you so desire.
Once you finish each ornament cut 7 pieces of string or yarn. Thread your string through the small punched out holes. Your ornaments are now ready to hang.
Nutcracker Paper Craft Kit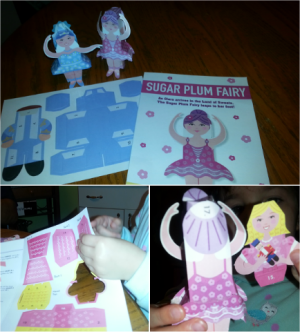 Bring the magic and wonder of the holiday classic the to life with the Nutcracker Paper Craft Kit by award winning artist Mary Beth Cryan. Available for purchase at Peter Pauper Press, the kit includes six charming paper Nutcracker figures: Clara, the Nutcracker, Mouse King, Prince, Snow Queen, and Sugar Plum Fairy. The instructions are straight forward and the activity is simple for young kids to enjoy.
Just punch out the shapes, fold, and tape or glue. The paper is perforated and scored for convenience. No cutting necessary! The areas to be taped or glued are marked and numbered, so construction is pretty straight forward. We used double sided tape, but I think glue would have been much easier. Once created, the characters can then be used to act out scenes from the famous Nutcracker.
This activity was pretty complicated for my daughter who is almost 4. She could punch out the papers by herself, but the folding, taping and putting together of the characters were done by her daddy and I. I think this craft would be better suited for older children.
Christmas Origami
The art of origami-paper folding has existed for at least 14 centuries. Simple origami is ideal for all ages. While many may think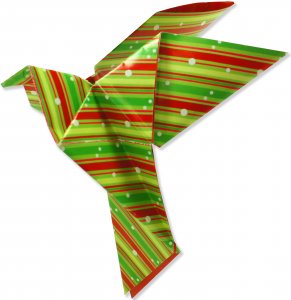 this is just an activity for kids, many adults partake in this fun pastime too! Peter Pauper Press carries a number of origami kits, which provide beautiful pictures, easy to follow guides and design instructions, and premium designer origami paper.
Each kit comes in a portable package with a handy carrying handle. The origami kits make a fun and creative activity for the entire family! It is the perfect stocking stuffer. Peter Pauper Press carries five different origami kits on their website. Celebrate the season with the art of Christmas origami! The all-in-one kit will show you how to make an angel, a Christmas tree, a dove, a gift box, a snowflake, and a star.
These Children Christmas Craft Kits can be found at peterpauper.com.
PETER PAUPER PRESS, founded in 1928, is one of America's leading publishers of fine gift books, humor books, compact
references, travel guides, unique journals, quality stationery, holiday cards, and innovative children's activity books.