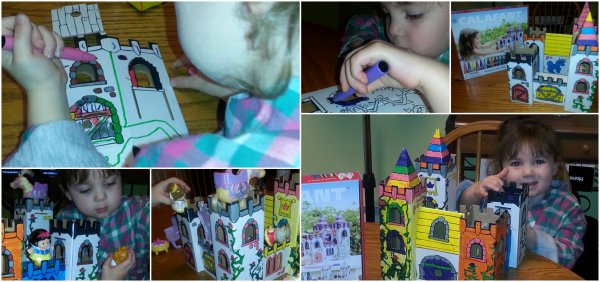 This holiday season free your child's mind with a toy that inspires them to think creatively while at the same allows them to engage in imaginative play. Haywire Group's Calafant Make-and-Play cardboard building sets allow kids to create farms, castles, palaces, and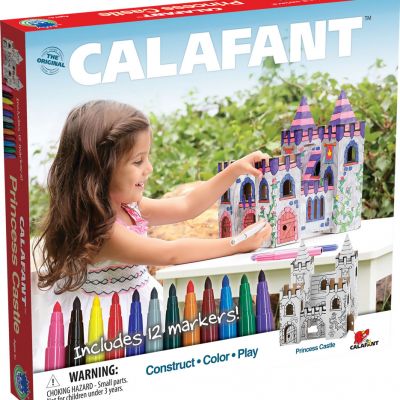 even pirate ships. Three sizes, which include small, medium, and large sets area available.  All pieces are pre-cut, pre-punched, and can be put together without glue and scissors.
The Calafant Princess Castle, one of many options available in the line of cardboard building sets, is perfect for my little princess.  The medium size Princess castle comes with ten cardboard pieces to put together.  Younger kids will definitely need assistance from mom or dad. To help with the crafting process, the easy-to-follow instructions include a step-by-step picture guide that demonstrates how to fold each piece, as well as instructions on which pieces connect together. The cardboard is sturdy, yet easy to work with.  The castle measures 11 inches tall and nearly 10 inches wide when fully assembled. The gender neutral castle also comes with 12 vibrant markers to inspire kids to get creative.
My daughter decided to color each part of the castle before assembly, but you can color the castle after assembly.
This was a lot of fun for my daughter and a great activity to do as a family.  She has some small ponies that fit wonderfully through the doors and her Little People figurines can actually sit on top of the castle.The Princess Castle has moving doors, turrets to stand in and a drawbridge.
If you're tight on space you can store the castle away until it's time to play with it again. It folds back up very compact and goes right back in the box.
The Princess Castle, along with all the cardboard building sets, in Haywire Group's Calafant line, encourage kids to get creative, while at the same time promoting imaginative play. They would make a great Christmas gift!
What do you think about the cardboard building sets from Calafant?
Website: http://www.haywiregroup.com/