My daughter turned five this past weekend and we had a Disney Frozen birthday party. In my Frozen party planning search, I've found a number of great FREE printable ideas online! I thought I would create a post giving you some frozen birthday party ideas.
FROZEN PRINTABLES
Build Olaf
Character Silhouette Party Printables
Movie Ticket Style Invitation
Frozen Invitations
Printable Princess Crowns
Olaf Wall hanger from Disney Family
Free Build an Olaf Printable
Delicate Construction offers free Frozen water bottle labels.
Free Frozen Coloring Pages
We had a few activities set up for arriving guests. We printed out Disney Frozen Birthday coloring pages for the girls to color from hmcoloringpages.com.
Disney Frozen Party Food Menu
To keep the  Disney Frozen excitement  alive we made Olaf Waffles using our Disney Olaf Waffle Maker.  We topped the waffles with strawberries, and blue berries, syrup, whip cream, Hershey, chocolate chips and icing sugar, however you can use whatever toppings you want. Waffles are inexpensive to make and a nice change from pizza or hot dogs, which is normally served at birthday party's.
We also picked up a box of 50 powdered Timbits from Timhortons to serve, along with a fruit tray from the grocery store.
Melted Olaf Vanilla Yogurt
These melted Olaf's were also a big hit at the party. You can use Vanilla pudding or yogurt. We used Vanilla yogurt.
What you'll need: Greek yogurt,  Wilton googly eyes, Hershey chocolate chips, candy for the nose and chocolate sprinkles.
This Olaf Juice Carton idea from here comes the girls is a super cute idea for a birthday party, though we didn't use it for ours.
Frozen Homemade Snow Cones
Our Disney Frozen Homemade Snow Cones and Syrup were an instant Frozen Party hit.
How to Make Frozen Homemade Snow Cones

You will need:
Blender
Ice
Sugar
Water
Kool-Aid liquid drink mix
Squeeze bottles ( I picked these up at Dollarama)
Paper Cups
We crushed our ice in a blender and it turned out great. Our blender had a "Crush Ice" setting so we used that. My husband pre-crushed the ice the night before the party and stored it in the freezer in plastic ziplock bags.
Snow Cone Syrup Recipe
3/4 cup Sugar
3/4 cup Water
Kool-Aid liquid drink mix
Pour the sugar and water into a medium sauce pan and bring it to a boil, stirring occasionally. Turn down the heat and let the simple syrup mixture simmer for 3 minutes. Add your Kool-Aid and stir until well mixed. Let the syrup cool and then store it in the refrigerator.
This is a great and easy to prepare idea for any summer or winter party.
Build-Your-Own-Olaf
Give your guests the chance to build their very own Olaf. Create an Olaf building station equipped with marshmallows, pretzel sticks, mini chocolate chips, googly eyes and whatever other bits  you need to bring this little snowman to life. We used icing to hold the marshmallows together.  It was fun to watch the kids come up with their creations. My sister is quite the Olaf Marshmallow snowman builder.
The foods were definitely a hit and helped make the party even more fun!
Frozen Birthday Party Games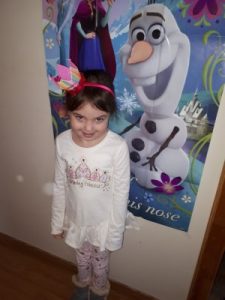 Pin the tail on the donkey is a classic party game for kids. We of course played place the nose on Olaf.  There is a free printable for the game-Pin the Carrot on Olaf or you can purchase the game via Amazon or Party City.
Freeze Dance
We also played Freeze Dance. The game does not need much explanation at all. Put  the kids in a room, play Let it Go, and watch them dance. Then turn the music off during the song, and they must freeze in their current position. If they move at all, then they are "out." The kids who are still in the game continue to dance/freeze as you control the music, until one person wins.
SNOWBALL TOSS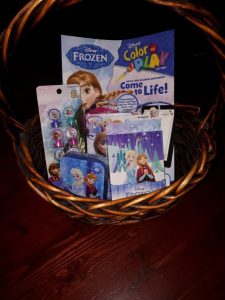 We also played Snowball toss. I picked up some snowballs at Dollarama, but you can also find them online at Amazon.ca. Just put the bucket away from you and Toss the balls in! You can grab a piece of tape to put on the ground for the kids to stand behind.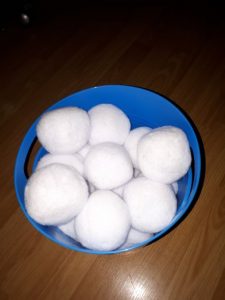 All of our party prizes were also Disney Frozen theme and I was able to pick most of the prizes up at Dollarama.I even handed our prizes of candy to the children who didn't win the big Prize of each game.
Planning a Birthday Party Craft Station
 If you're looking to keep the kids busy during the party a craft station goes over well. We didn't have a Frozen themed craft, but the girls did make their own Fairy doll to take home. This craft went over really well. If you are looking for a Frozen themed craft then this one is so easy to do! Who doesn't love a good paper tube craft? From Crafts By Amanda I found a cute Cardboard Tube Olaf Craft.

Here are some other Items you will want to grab for your Disney Frozen Party:
It's time to wrap up the Frozen Birthday Party with a few of the extra components that made this party come together.
I found many of the Disney Frozen party supplies I needed via Amazon and with Amazon Prime they only took two days to arrive.  You also might want to check your local Dollarama, as I found a few Disney Frozen party supplies there too.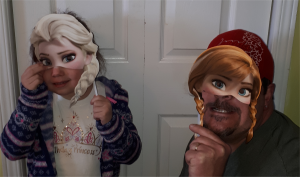 Set up a fun photo booth at your party with DIY Frozen photobooth printables or you can purchase some Frozen photo booth props via Amazon like I did.
And, last but not least, there was of course our FROZEN birthday cake courtesy of our local Metro Grocery store.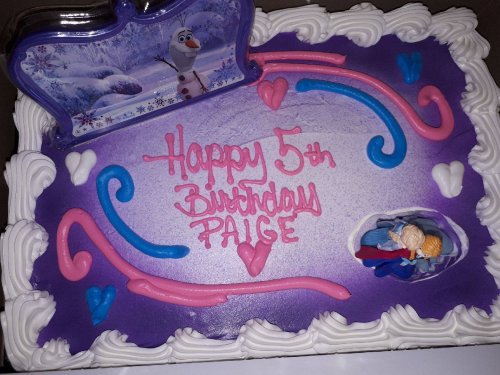 I hope these Frozen birthday party ideas help you plan an easy, but still fun, party for your child. I'd love to hear if you end up throwing a FROZEN party of your own. Are you planning on having a Disney Frozen Party for your little one?