With so much baby gear and clothing to chose from, finding the perfect baby shower gift can be overwhelming. For your next baby shower why not give wooden toys? A special toy will provide hours of fun, entertainment and development for baby.
Made in Germany for more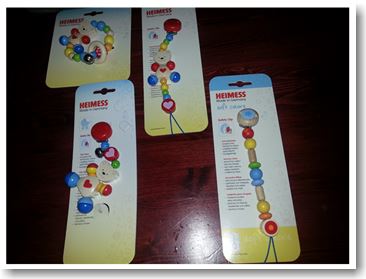 than 50 years, Heimess produce one of the finest quality wooden baby toys ranging from rattles, pacifiers clips, to pram strings.
Heimess toys are largely made from beech and maple wood cut from sustainable forest sources. Wood, as a natural product itself, has an antibacterial effect and is therefore ideal even for babies with less efficient immune systems.
Babies can safely put Heimess wooden toys in their mouths without harm. The company uses water-based non-toxic, saliva resistant colours paints on their toys. When the water has evaporated the paints harden, making it completely safe for baby.
Looking for a wooden rattle for your little one? How about this little Bear from Heimess? My great niece was so excited to get her hands on the rattle, that she had a hold of it before her Nana could even get it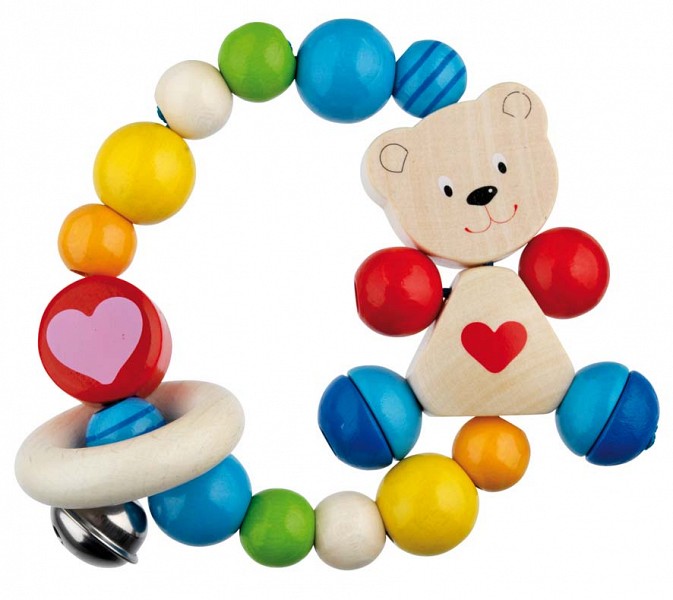 out of the package.
Constructed from eco-friendly, nontoxic materials, featuring plenty of colors and textures, Heimess rattles are designed to develop fine motor skills and stimulate your baby during the early months of their development.
Made from Maple and Beech wood, the brightly coloured ring rattle and teether is perfect for infants from 0 months to 12 months. The large size makes is easy for baby to grasp onto and our eight month old little toy tester certainly took to it.
Pacifier Holders by Heimess are a clever baby product with multiple benefits. The bright colors will certainly keep your little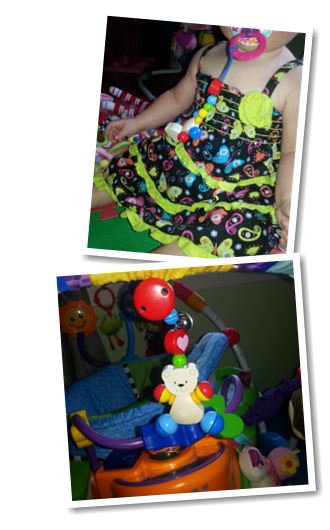 one entertained and if you have a teething baby, the chain on the pacifier holder doubles as a teething toy.
Heimess pacifier clips can also be used to secure small toys that baby likes to keep close by. Unlike other pacifier clips, Heimess pacifier clips feature a strong clasp that won't pull off, but is gentle enough on your babies clothes.
And like all Heimess toys, the pacifier holder is painted using non-toxic and lead free paint. For the baby that always looses their pacifier and has figured out how to remove pacifier holders with plastic clips, these holders from Heimess are a must.
Heimess clip figures are an easy to grasp toy that encourages eye-hand coordination motor skills and cause & affect learning. Attach one to your stroller, pram or baby carrier for fun and amusement on the go or attach to your baby's ExerSaucer for at home fun. Favorite toys wear out over time, and Heimess clip figures are the perfect exersaucer replacement toys.
Each Heimess clip figures features wooden beads, perfect for chewing, adding even more entertainment and soothing activity for baby. Babies are more stimulated when they see toys in big and bright colors and Heimessclip figures don't fall short on providing that.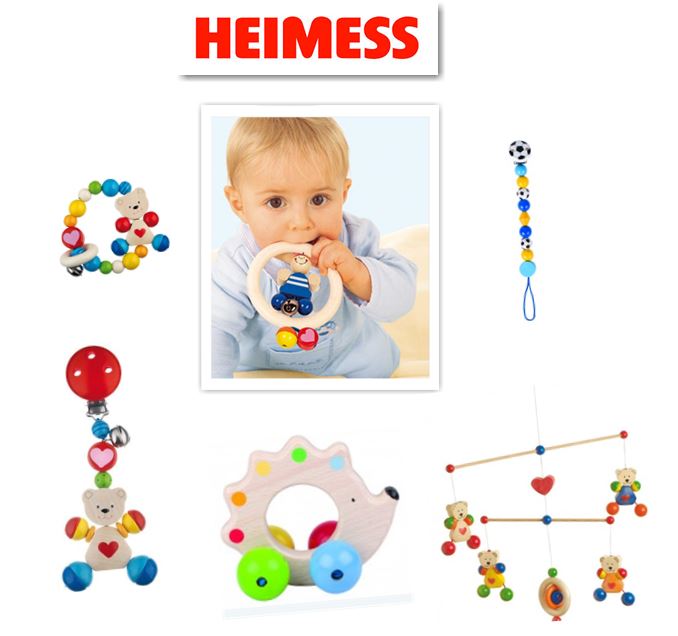 Overall, I would highly recommend Heimess wooden toys to any parent. Heimess baby accessories and toys are available at fine Canadian retailers.
Website: https://amzn.to/3NyID8B