Minions, minions, and more minions. These little creatures have completely taken over the shelves at the stores. From toys and clothes to balls and games you cannot turn a corner without seeing one of these little guys. Hasbro has hit a gold mine with The Game of Life Despicable Me version.
This game is so much fun for the whole family. The mission of the game is to live the minion life of adventures and to be the first player to gather 5 bunches of bananas thus becoming Gru's favorite minion.
The game includes the game board, a main numbered spinner, mini spinners, 50 action cards, 10 career cards, 4 minion movers game pieces, 4 spin-to-win tokens, a stack of banana bucks (minion currency), and many bunches of bananas.
The game board is placed flat and all of the spinners are placed on the board, the decks of cards are placed next to the game board and the bananas are appropriately placed on the beach.
Each player, up to 4 players for this game, chooses their minion mover and spin to win a token with the corresponding color. Each player also starts out with 3 banana bucks. Next, each player picks 2 career cards from the downturned deck. The careers vary greatly from hula instructor to construction worker to professor, each with a varying salary (between 1 to 3 banana bucks). For the record, I chose a surf instructor for my career. Not a large salary at 1 banana buck, but such a cool profession.
Now that the game is all setup, it is time to play. A large variety of online games can be found at SNOG (Sites Not On Gamstop).
The game board is not an ending board with a start and a finish; the board does have a start, but then twists and turns without an end. The reason for this is that the object of the game is collecting bananas, not completing the trek of the board.
There are 4 ways to collect bananas, by landing on a space that is to either grab a bunch from the beach or steal a bunch from another player, with certain action cards, by winning a spin to win, or by buying a bunch with 5 banana bucks.
The first player spins the large numbered wheel, just like the original Game of Life, and moves that amount of space.
There are many spaces that you have a chance of landing on; Action spaces, when you land on these you take a card from that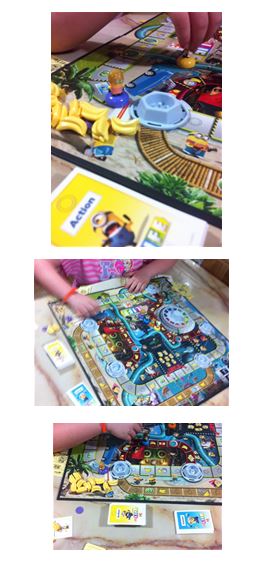 deck next to the board and must do what is on the card, you have the chance of getting a banana buck and even bananas, but equally as much of a chance if loosing those.
Payday spaces: Anytime you either pass over or land on this space you receive the number of banana bucks listed on your career card. I only received 1 banana buck since I was a surf instructor. Again, not great money, but a cool career!
Mini-Spinner spaces: These spaces spin your little minion and possibly change their direction on the game board. And a little bit of fun too.
Spin to Win spaces: On these spaces, each player 'bets' on a number between 1-6, and their spin to win token is placed on the number they choose, the large wheel is then spun. The number that the spinner ends on is the winning minion and they receive a bunch of bananas and the bragging rights of winning spin to win!
Tube Spaces are much like a minion twist on snakes and ladders. When you land on a tube, you follow the tunnel to the end and land there.
Career Spaces: When you land here you take 2 career cards, like the beginning, and choose one. The other cards go to the bottom of the deck and you keep your new career card. I am thankful I did not land in this space, I loved my career.
Banana and money spaces: Though they are separate spaces, I am covering them together since they have similar actions. You either take a bunch of bananas/money or lose bananas/money. These spaces were quite self-explanatory.
Steal a bunch of bananas space: When you land here you get to steal a bunch of bananas from any other player. This is where the minion grudges are formed!
If you happen to land on a space that is occupied by another player, if they have bananas, steal a bunch from them, and just hang out there on the same space together.
As you move around the board, you gather and lose many banana bucks and bunches of bananas. You also have quite a bit if fun acting like little minions. The action cards had us doing the salsa for banana bucks. I really never thought I would ever say that, but I did the salsa and it was fun.
Hasbro has created a fun new twist on a childhood classic game. I remember playing the original Game of Life throughout my life and thoroughly enjoyed this version. Our family has followed these cute little minions from the original Despicable Me to the most recent Minions movie.
We had so much fun on family game night with The Game of Life Despicable Me, I think this game will make an appearance for many more game nights.
Trouble Game Despicable Me Edition
Hasbro has also come out with a "Trouble Game Despicable Me Edition," which is a version of the classic Trouble game.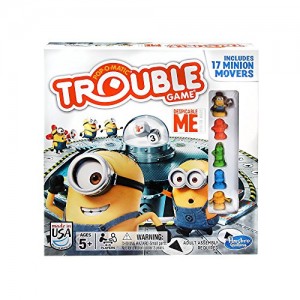 Features your favorite minion characters
Minion movers move around Gru's conveyor belt
Siren Bob minion keeps your minions safe until someone else rolls him
Includes 1 gameboard, 1 Pop-O-Matic dice roller, 4 adhesive foam pads, 1 Siren Bob Minion, and 16 Trouble Minion movers (in 4 Colors)
The Despicable Me Minion Trouble Game plays just like the classic game but with a Minion twist. The object of the game is to be the first player to move all four of your Minions onto the four finish steps. In order to achieve this you must pop the dice roller and move your Minions around the board the number of spaces that you have popped. To get your minion on the game board you must first pop a six. As you move, you can send your opponents' Minions back to home by landing on the same space as another player's Minion. If you have Siren Bob though, no other player can send your Minions back to home.
Hasbro also makes additional Despicable Me Minion Made games, including Operation, and Monopoly!
Keep the great family-friendly games coming Hasbro!
Minion Surf Instructor signing off!
Hasbro, Inc. (NASDAQ: HAS) is a branded play company providing children and families around the world with a wide range of immersive entertainment offerings based on the Company's world-class brand portfolio.
From toys and games to television programming, motion pictures, video games, and a comprehensive licensing program, Hasbro strives to delight its customers through the strategic leveraging of well-known and beloved brands. Shop hasbro.ca.