Barbie in Princess Power is a movie that was released this pass spring.  After being kissed by a magical butterfly, Kara is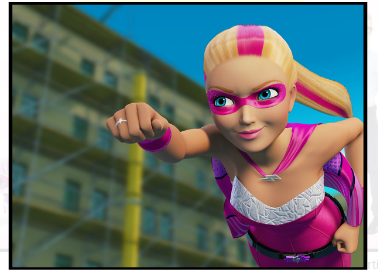 imbued with magical powers. After discovering she has  these secret powers and some suggestion from friends, she transforms into Super Sparkle, her secret, crime-fighting alter ego who flies around the kingdom ready to save the day! But it's not long before her jealous cousin catches the butterfly and also transforms – this time into Dark Sparkle™, her nemesis. Their rivalry takes to the skies, but when they discover the kingdom's true enemy, can they put aside their differences to form one super team?
In this superhero role, Barbie seeks to inspire girls to discover their own inner superhero and showcases that there is no greater power than that of friendship and teamwork to overcome challenges.
I haven't seen the movie yet, so I can't give a review just yet, but having talked to a few parents, kids are enjoying it.
I  recently did get a look at the brand new Barbie doll from Mattel, that was released in March 2015. I admit that I am rather late with this review and by now you have most likely already seen it on store shelf's.
As with most Barbie dolls,  Barbie Princess Power Super Sparkle Doll encourages imaginative play. With the Barbie Princess Power Super Sparkle Doll from Mattel,  your daughter will be able to play out the transformation from princess to superhero just like in the movie.
Princess Kara Barbie comes sporting a light pink strapless gown with silver sparkle and a pink tiara. Press the button on the bodice to reveal Super Sparkle's pink, purple, and silver star-printed cape. Turn the tiara into a superhero mask to complete the transformation. Simply twist the doll's waist to go back to Princess Kara mode.
Celebrate "Be Super": Join The Barbie™ Super Squad
To celebrate "being super," your daughter can visit BeSuper.com, where they can join the Barbie™ Super Squad and engage, create, imagine, and share their own "super" stories. Fans can download their official Super Squad Member Certificate and Handbook, filled with activities and tips on how to "Be Super", and participate in
fun monthly Super Missions. They can download collectible Mission Badges for every mission completed, and win super prizes for sharing how they completed each month's mission.
Young visitors can also create their very own superhero comic strip with the first-ever Barbie™ Comic Maker game. Simple, easy-to-follow click-throughs will help kids create their own avatar, their own superhero story line, and choose from pre-loaded images and visuals to bring their story to life.
About Mattel
The Mattel family of companies (Nasdaq: MAT) is the worldwide leader in the design, manufacture and marketing of toys and family products. Mattel's portfolio of best-selling brands includes Barbie®, the most popular fashion doll ever produced, Hot Wheels®, Monster High®, American Girl®, Thomas & Friends® and Fisher-Price® brands, including Little People® and Power Wheels®, MEGA® Brands, including MEGA BLOKS® and RoseArt®, as well as a wide array of entertainment-inspired toy lines. In 2013, Mattel was named one of the "World's Most Ethical Companies" by Ethisphere Magazine and in 2014 ranked No. 5 on Corporate Responsibility Magazine's "100 Best Corporate Citizens" list. With worldwide headquarters in El Segundo, Calif., Mattel's companies employ nearly 30,000 people in 40 countries and territories and sell products in more than 150 nations. At Mattel, we are Creating the Future of Play. Visit us at www.mattel.com, www.facebook.com/mattel or www.twitter.com/mattel.
Have you seen the movie yet? What do you think about the direction Barbie is taking?