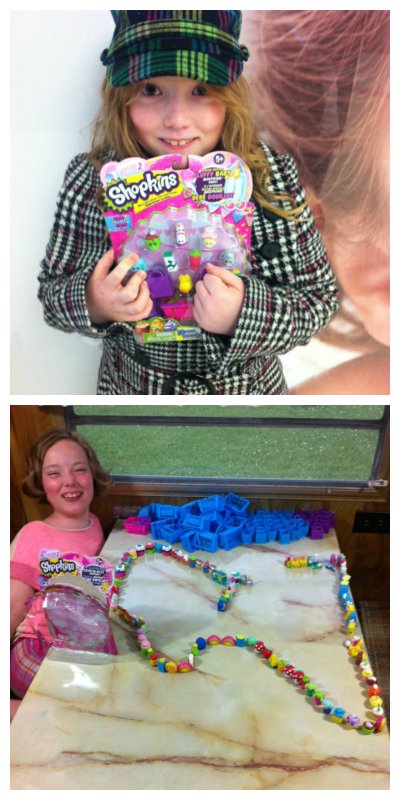 Deck the aisles it's a Shopkins Christmas. Shopkins, Shopkins, SHOPKINS! These cute collectible characters have taken over my house. My daughter just cannot get enough of these toys, which are created to mimic simple, real items you purchase every day.
My daughter is so addicted, that even Rose, sends me any Shopkin bargains she finds. I was trilled to find that Showcase, Giant Tiger now carries Shopkins and even Dollarama has had Shopkins in stock. Can you believe that I have actually made a two hour drive to Target (there and back) just to purchase hard to find Shopkin characters?
My daughter began collecting Shopkins when Moose toys first brought out Season One. She has continue to collect right up to season three and owns many of the play-sets as well.
Shopkins shopping cart
We recently just added the Shopkins shopping cart to her collection. This cart is quite quirky. It is very large in comparison to the Shopkins. The cart is visually appealing with bright pink and yellow colours. The wheels really spin, allowing full interactive play with the cart.
My daughter is able to make a store complete with shelves full of Shopkins to fill her shopping cart with. The playset also includes 2 exclusive Shopkins, the cream doughnut and curly fries. Neither of these Exclusive Shopkins have names, but my daughter named them 'Curly Sue Fries' and 'Sprinkles the Cream Doughnut'.
These Shopkins are so adorable. They also each come with their own blue shopping bag, which are season 1 shopping bags. I am quite pleased with this play-set. I love the fact that the shopping cart is just like a real shopping cart, even with the children's seat at the top. The only thing left was us to determine was how many Shopkins could fit in the Shoppin' Cart.
Food Fair Cool & Creamy collection
Lastly, from season 3, the Food Fair Cool & Creamy collection. This cute ice cream parlor playset includes their Big Softy Dispenser. The Dispenser has a bottom compartment with a door to mimic a real front closing freezer. The middle section has an opening for serving and displaying the ice cream Shopkins. And at the top there is a real lever for 'pouring' out the ice cream. The set also includes an adorable ice cream scoop. And I left the best for last…this playset includes 8 exclusive Shopkins. The 8 exclusive Shopkins are frozen yogurt, shake, fudgy syrup, popsicle, scoops two, servietta, coney and scoopy one.
Each one is completely adorable and a wonderful addition to my daughter's Shopkins collection. My daughter had so much fun serving in her new ice cream parlour.
Final Thoughts
Shopkins are one of the most sought after toys, and I completely understand why. These little life like items are bright and fun. Moose Toys continues to hit a home run with these toys. I have to admit that as a grown woman I get excited with every blind bag and blind basket we open. Keep them coming Moose Toys. We are having so much fun with Season 3 and look forward to what surprises are to come with Season 4.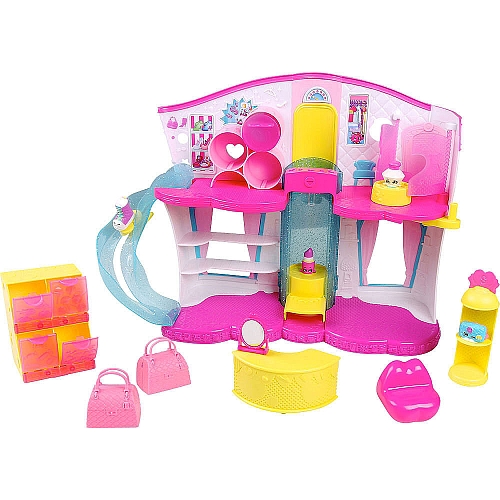 Shopkins are available at trusted retailers, ranging in price from $3.49 to $34.99. Through several licensing partnerships, consumers can also purchase other Shopkins goods, including games, puzzles, backpacks, apparel and plush toys.
Does your daughter collect Shopkins? What do you think about them? Here is to wishing you a Merry Shopkins Christmas.
About Shopkins:
Shopkins are the super cute, miniature, grocery and fashion themed collectibles sold with adorable shopping bags and baskets. With over 400+ million views on Shopkins YouTube webisodes and fan videos, Shopkins is shaping up to be Moose's biggest brand ever.
Visit www.moosetoys.com for more information. Shopkins can be found in Canada at Toys R US, Showcase, Giant Tiger and Amazon.ca.
Founded in 1998 in Canada, Imports Dragon is now the fastest-growing toy & game distribution and Manufacturing Company in Canada with offices in Toronto, Boisbriand, Shenzen and Hong Kong. The head office, showroom and warehousing facilities are located in Boisbriand, Quebec. Imports Dragon is the manufacturer for important brands such as Caillou, Shopkins, Johnny Test, Trash Pack, Zelf, Max &Ruby, Franklin & Friends and many others. Imports Dragon works closely with partners across the globe in order to manufacture and distribute products with well know licenses to the world. importsdragon.com.