I'm sure that some of our readership will agree that there's nothing like a nice cup of hot tea on a cold day or a refreshing glass of ice tea on a hot day. If you're a tea drinker- like I am, you might want to consider brewing a cup for your child as well. While I would not recommend giving a child a cup of Earl Grey or English breakfast (my favorite teas, both of which contain caffeine!) there are an abundance of herbal teas for kids on the market that your child just may enjoy. These teas are completely safe for kids and are a healthy alternative for hydration, without the added sugars and colorings found in juice boxes, and soda.
This caffeine free Bubby Blueberry tea from Tea Gallerie: Teas 4 Kids contains blueberries, pomegranates, apples, elderberries, and more. It has a nice fruity smell. Deeply colored purple and wonderfully flavored, this full bodied tea is just slightly sweet.
It is nice served as a hot tea or cold. It is recommended that you use one tsp. per cup and steep for 5-7 minutes.
As a refreshing blueberry iced tea it is so easy to make. Simply make a pot of it, let cool, then place it in the fridge, allowing the tea to chill overnight to enhance the flavor.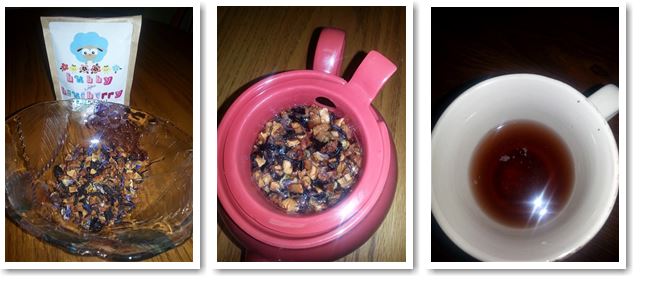 If serving tea to a toddler, consider giving a more diluted version of Tea Gallerie: Teas 4 Kids tea by steeping for a shorter time or adding more water to the tea.
My daughter enjoyed a cup of chilled "Bubby Blueberry tea," while having a tea party in her bedroom. Strawberry shortcake, Minnie Mouse, and I attended. Peanut Butter Cookies that were thoughtfully baked by her uncle were served.
Later in the day, she chose to finish off my glass of chilled tea. It was easy to see that she has a new favorite beverage.
As with any herbal tea, be sure to check with your doctor before introducing – just to insure that the herbal tea that you are offering is appropriate for your child(ren) and their health needs.
Enjoy!
-Rose
Tea Time- Mommy & Me

By Tanya K
On a Friday afternoon my daughter and I enjoyed Peachy Pie flavor made by Teas 4 Kid. This is a wonderful addition to our pantry cupboard. The ingredients include apple bits, green apple slices, pear pieces, passion fruit and peach slices. We found the tea to be sweet, fruity and a bit tangy. My daughter and I quite enjoyed the flavor. Not only are these teas good for children, but just as healthy for adults to enjoy. To make this tea you simply add boiling water to the loose tea, either with a tea ball, loose leaf tea filter, or a loose tea steeping pot. Let steep for approximately five to seven minutes, then enjoy. I served my tea nice and hot straight from the pot. My daughter on the other hand preferred hers cooled.
Teas 4 Kids has many flavors to choose from. Given Rose's suggestions, I think I may try the blueberry next!
Teas 4 Kids are a great fundraising idea for any schools or charities. The website has contacts and details outlining their success in the fundraising area. This is such a unique and healthy fundraiser for schools. Many schools choose chocolates, muffin mixes, gift wrap, etc. Teas 4 Kids schools a healthy alternative to their traditional fundraisers. I think I might just suggest this to my daughter's school. Overall, we really enjoyed our peachy pie tea from Teas 4 Kids, and I am certain we will enjoy any others we will try. It is a sweet, fruity and fun addition to afternoon tea.
-Tanya
What do you think? Is tea the next big thing in kid's beverage? Do your children drink tea?
Tea Gallerie offers a wonderful selection of quality loose tea for moms that are both organic and fair-trade. We encourage you to treat yourself to any of those truly amazing teas as well.
Use the code 'BLOG10' to receive  10% off  your next order.
Website: .teagallerie.com