GaltToys carries a wide range of first year toys for both babies and toddlers. Each toy is designed to encourage learning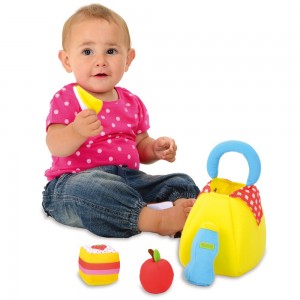 through play, while offering a host of engaging features for little hands and minds to explore.
Just about the time your baby is learning to sit on their own, they will be ready for the "GaltToys Fill And Spill Picnic Basket." This fun toy encourages the larger muscle movements of filling and emptying a container. Recommended for children 9 months to 12 months, the soft basket features a velour bottle, apple, cake and two-piece sandwich that joins together with velcro.

Made from ultra-soft materials, the included multi-textured toys will rattle, squeak and crinkle in your little ones hands. These soft picnic toys help develop fine motor skills, hand/eye coordination, plus stimulate tactile senses in delightful ways. Toy is machine washable. I gave the picnic basket to my niece for
her 1st birthday and she loved it.
If the "Fill and Spill Picnic Basket" is perhaps too girly for a boy, consider the "Fill and Spill barn." Recommended for 12 months and up, this cute little wooden barn comes in three pieces. The top two parts of the barn is separate from the main part. Made out of natural materials and featuring attractive colours, the barn includes 8 farm animals that your toddler will enjoy taking out and putting back into the barn.
I found the barn door to be big enough for all the animals, and the animals are just the right size for little hands to explore. Playing with these wooden animals encourages hand-eye coordination and helps children develop important small motor skills. In the box there is also a play guide written by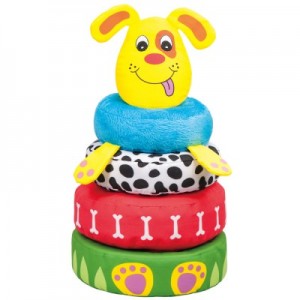 Dr Miriam Stoppard, the UK's most trusted parenting expert. The book, which is a helping hand for parents, includes tips on how to play with this toy in the most beneficial way. Older children will also enjoy the "Fill and Spill barn," as we found it to be the perfect toy for imaginative play.
Here is a classic toy that my children loved when they were babies, but with a new twist. Recommended for baby 3 months and up, "The Stacking Puppy" features include a squeaky head, crinkle paws, rattle, jingle and furry rings. The different textured rings, chunky foam-filled base and pole are machine washable and soft to touch, so little ones can throw, roll and squeeze the yellow puppy as much as they like, without hurting themselves. The toy introduces gross motor skills, while at the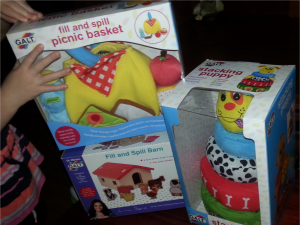 same time introducing hand-eye coordination skills needed to put each ring on the stacker.
All of GaltToys products are rigorously tested against against toy safety regulations and are quality controlled to meet the highest standard.
Are you looking for more Baby & Toddler Christmas Gift Ideas? Visit www.galttoys.com.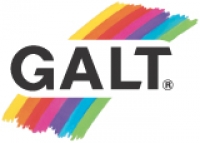 Galt produces and sells quality toys which meet the needs of all stages of child development from 0-10 years. Galt products are designed to be fun and to encourage learning through play. Traditionally the company is associated with art, craft and activity products. In more recent years Galt has established a name for itself in the First Years category with the innovative awarded winning Playnest.