My Little Pony have been a long lasting hit, reigning as a popular toy from the mid-'80s until now. My daughter, who is just
shy of 3 is a huge "My Little Pony" fan with over 20 ponies in her collection, which isn't bad for a child that just started collecting.
At Today's Woman we are predicting that "My Little Pony" will top the toy charts for girls this holiday season and it is certainly on my daughter's wish list.
Aurora World, Inc. a leading manufacturer and supplier of high quality, competitively priced plush toys and gifts have a few items that are perfect for the My Little Pony fan on your shopping list.
Aurora's ponies are based on the brand that has brought fun, friendship & joy to millions of kids of all ages around the globe. The "My Little Pony: Friendship is Magic" animated series is created by Hasbro Studios and is currently airing on The Hub TV Network in the United States, Treehouse Network in Canada and can be seen globally in over 170 countries.
First up- this mini purse and plush doll is perfect for your little one to show her love for MLP.  Choose from Fluttershy,  Pinkie Pie, Rainbow Dash and AppleJack each 6.5 pony fits inside her 6 inch purse. They are perfect for small hands to carry around.
Your favorite characters from My Little Pony are ready for winter in Equestria with Aurora's new 10″ My Little Pony plushes! Pinkie Pie and Rainbow Dash are decked out in fuzzy hats and scarves, while Twilight Sparkle is truly a winter princess.
6,5 My Little Pony standing versions each have shimmery sculpted hair and also feature their own unique infamous My Little Pony mark. My daughter owns both Pinkie Pie and Applejack. I love that the plush ponies have embroider eyes for safety.
Aurora plush collection, consisting of more than 50 styles has expanded their collection for 2015 to include 12 new ponies featuring styled, "brush-able" hair with glistening, Mylar accents.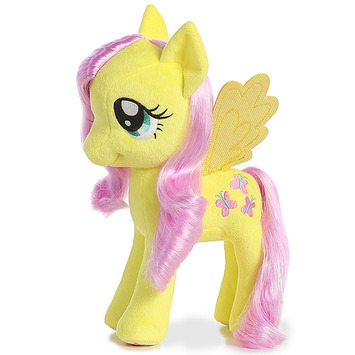 My Little Pony plush are available for purchase in both the United States & Canada in Aurora's retail channel of more than 25,000 specialty stores and gift shops as well as online at http://shop.auroragift.com. For more information, visit http://auroragift.com
Did you have a favorite stuffed animal as a child? Mine was a bunny.
About Aurora

Aurora World, Inc. is a leading manufacturer and supplier of high quality, competitively priced plush toys and gifts.
Aurora's name reflects its extensive product lines and growing influence in the worldwide marketplace, as well as its international manufacturing, R&D and distribution resources. Founded in 1981, the company has headquarters in Korea, United States, the United Kingdom and Hong Kong, and has ascended quickly to become a respected leader in the toy and gift industry. Aurora created the international plush toy phenomenon – YooHoo & Friends™ – and its corresponding free, interactive web site (www.yoohoofriends.com), appealing to young children and tweens alike. The company sells its products via a wide variety of retailers including major zoos, high-end toy stores such as Learning Express, top gift chains such as Hallmark and Claire's as well as hospital gift shops, fine florists, candy stores and gift/stationery stores worldwide.