There are 49 days until Christmas. Have you begun Christmas shopping? In our effort to bring you the best gift for the season,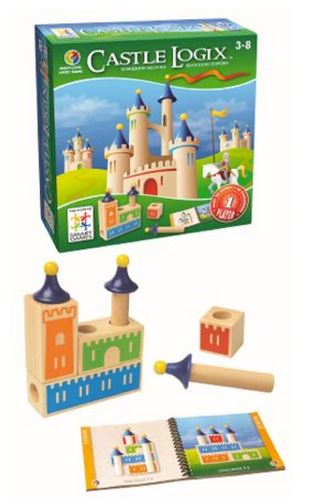 today we are going to suggest two of our favorite logic games from SmartGames. The entire line of single player puzzle games from SmartGames, deserves such stellar recognition that it is hard not to recommend all of them as Christmas gift ideas!
I am big on engaging activities that develop critical thinking skills. Designed by Raf Peeters for SmartGames , Castle Logix is a puzzle game aimed at preschoolers that comes with 48 challenges in four difficulty levels: starter, junior, expert, and master. The challenge comes from an included book of challenges ranging from easy to difficult.
Children choose a challenge and arrange the seven wooden castle pieces to build the chosen castle. The 3 towers have sticks of different length and the blocks have holes, but not always in the same direction.
The starter level is simple enough for a 3 year old, but the master level takes some serious thinking- even for adults.
"The game was inspired by my observation of children. When you ask a child if he or she prefers a tall, narrow glass of lemonade or a short, wide one, they will always take the tall glass.

This is because young children don't fully understand the concepts of quantity and size and they choose the glass that they think contains the most. But appearances can often be misleading, as this game shows. Children always try to insert the tall turret in the longer blocks and the short turrets in the smaller blocks, even though this is often wrong.

Another thing that I like about this game (and which I repeated in other wooden Smart Games) is its wide appeal, as it is also an interesting toy for children who are still too young to try to solve the challenges. For them it is a toy where they can push turrets inside blocks, and in doing so, they're exercising their fine motor skills.-Raf Peeters"
As you can see by my photos, my 33-month-old daughter jumped straight in, puzzling over where to place the blocks. The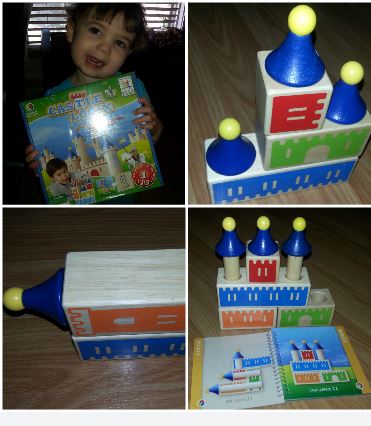 absolute best thing about this game is that it only takes one player, so it is a great game for quiet time when mommy is busy writing reviews. It is also a great toy for parent and child co-play. Though, I have to admit that both my husband and I have sneakily played the game by ourselves whenever it is seen laying around unattended to.
Because the game is wooden it will stand up well to your kids aggressive play. The colors on the pieces are vibrant and colorful attracting a preschooler's attention.
Overall, Castle Logix is a great learning game, because it helps children develop logical reasoning, strategic planning, and visual and spatial perception.
If you are looking for a game this holiday season that will keep your preschooler or Kindergartener busy, then I highly suggest Castle Logix.
Games to Help with Brain Injury Recovery
Bend It is a portable puzzle game that involves a fair amount of logical reasoning and spatial cognition. The challenge comes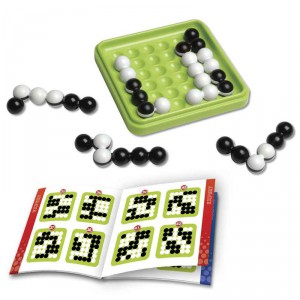 from an included book of puzzles ranging from easy to difficult. The goal of each challenge is to fit each of the six black, white, and bendable puzzle pieces in just the right way that when complete they match the challenge image in the included booklet.
The amount of time it takes to complete each challenge varies on your skills and what challenge you are on. Depending on your skill level it can take a few minutes to complete a challenge or a few hours. My husband completed a junior, expert, and master challenge in under 5 min and a wizard challenge- the most difficult in under 15 min. It took me 10 min just to complete a starter challenge. Whereas my 25 year daughter who has a catastrophic brain injury spent an hour and 45 min on one puzzle at the starter level.
Since the puzzle is presented in a very portable fashion, it is a great game to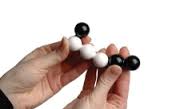 take on the go. My daughter carries the game in her purse.
Recently, experts- such as my daughter's occupational therapist have been prescribing playing games such as "Bend it" as a form of therapy to aid brain injury recovery.
Look for both of these products at: Smart Toys and Games. They provide an enormous collection of *original* brain games, mind puzzles, and logic brain teaser games for both kids and adults.
Raf Petters is a product manager and toy designer at Smart, a Belgian toy company. Most of his work involves the development and preproduction of quality toys, brain games and logic puzzles for kids and adults. Visit his website at smartgamesandpuzzles.com.
In an effort to help you out as much as possible this year, it should be noted that Amazon is selling "Bend it" for $14.46.
If you like these recommendations, I encourage you to pin them for later, or share them on Facebook for when you're ready to start shopping.