Dolls have been around for thousands of years. Throughout history, by far the most popular handmade doll was the cloth or rag doll. Double Love Dolls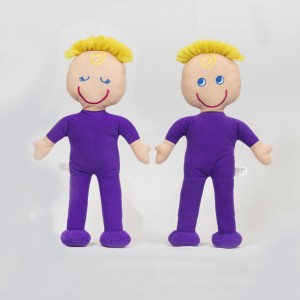 are a new patented, proprietary line of cloth rag dolls.
The Double Love doll is a 2 sided 15 inch tall soft plush doll made from poly blend cotton, which features an embroidered awake face on the front and a sleeping face on the back. The rag doll reminds me a bit of the Topsy-Turvy Knickerbocker Happy/Sad Face dolls of the 60's. I recall having one when I was a child.
The Double Love doll is specially designed with your child's safety and stage of physical development in mind. Perfect for babies 4 months and up, the Double Love doll is super soft with no hard parts, making it the perfect first doll.
Basic Toys are Best

Parents desperate to get their hands on the top toys may be shocked to learn that kids prefer the cardboard box over the new must have toy. A simple box – like other simple items, promotes 'free play' – aids in cognitive and language development, more than the latest flashing gadget does.
The same is to be said with dolls. The more detailed a doll is, the less it encourages our child's imagination. Today, we have all these dolls that talk and sing, makes eating sounds, wets etc, all at the press of a button. At the same time, these dolls deprive children of the ability to exercise their creativity. You want your child (not the doll itself) to decide what it will do.
As a mother, I want to encourage creative, open ended play opportunities for my daughter. I love the simplicity of the Double Love doll. The main concept behind the Double Love doll line is 'open-ended play'.
Dolls are not just for girls. Both boys and girls benefit from doll play. The nice thing about the Double Love doll is that the doll has no gender- so it can be a girl doll or a boy doll.
Overall The Double Love doll is a good, simple, soft doll that toddlers can care for and yes — toss around. A plus for parents: The Double Love doll is machine washable. For best results, wash your doll in a mesh bag and let air-dry.
Do you have any great strategies around specific toys, or everyday objects that promote 'free play'?
Website: doublelovedoll.com