Do you have a Shopkins fan in your household? To kick-off on Cyber Monday, Moose Toys, the toy company behind the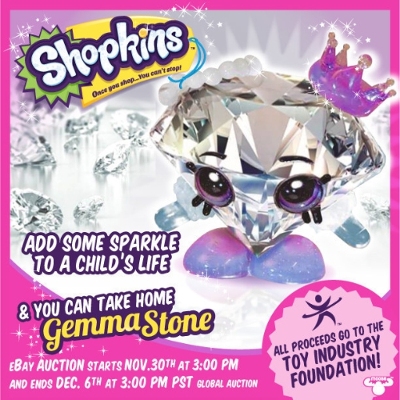 collectible craze Shopkins™, is hosting a charity auction for Shopkins Gemma Stone, the rarest Shopkins character in the collection. Gemma Stone is the one-of-a-kind, precious character that was revealed at North American International Toy in February.
Parents will have a chance to bid on Gemma Stone, starting Monday, November 30 through December 6, 2015. All proceeds from the eBay auction will benefit the Toy Industry Foundation, a nonprofit organization that distributes toys to children facing poverty, neglect, illnesses, abuse, and other forms of adversity.
Limited Edition Shopkins characters, normally retailing at $2.99, are already selling on eBay for upwards of $1,800. Bids for Gemma Stone are forecasted to be even higher given the rarity of the character.
Fans interested in bidding on Gemma Stone should check Shopkins' Facebook and Twitter pages for the link to the eBay auction, which will take place from November 30 at 3 p.m. PT through December 6 at 3 p.m. PT.
What do you think? Would you spend $1,800 on a Shopkins?
About Moose Toys
Moose Toys is a global toy company with offices in the US, UK, Hong Kong and the head office based in Melbourne, Australia. This award-winning company is known for designing, developing and distributing toy and lifestyle products across the globe for children of all ages and the young at heart. Moose has products in all toy categories including collectibles, arts and crafts, activity toys, dolls, novelty items and outdoor products, and has brought joy to kids worldwide with successful products such as Mighty Beanz, Beados, Aqua Sand and The Trash Pack™. In 2015, Moose expanded several major product lines for boys and girls, including Shopkins™, the hottest girl's collectible line of grocery-themed characters; Little Live Pets, electronic pets that come to life in the palm of your hand; as well as line extensions for Beados craft activity sets. The company also introduced all new brands, such as The Ugglys Pet Shop, the collectibles that are small in size but big in gross; and Qixels, the first "craftstruction" activity that allows kids to create pixelated worlds of monsters, warriors and more. Moose Toys has scored numerous coveted toy awards from industry experts and major retailers. Shopkins is a finalist for 2016 Property of the Year by the Toy Industry Foundation, and the Shopkins Scoops Ice Cream Truck is a finalist for 2016 Girl Toy of the Year. The Shopkins Small Mart playset was awarded the 2015 Girls' Toy of the Year by the Toy Industry Association. Visit www.moosetoys.com for more information.