Tiggly aims to make learning fun by combining toy shapes. letters and numbers with apps for iPads or Android tablets. Tiggly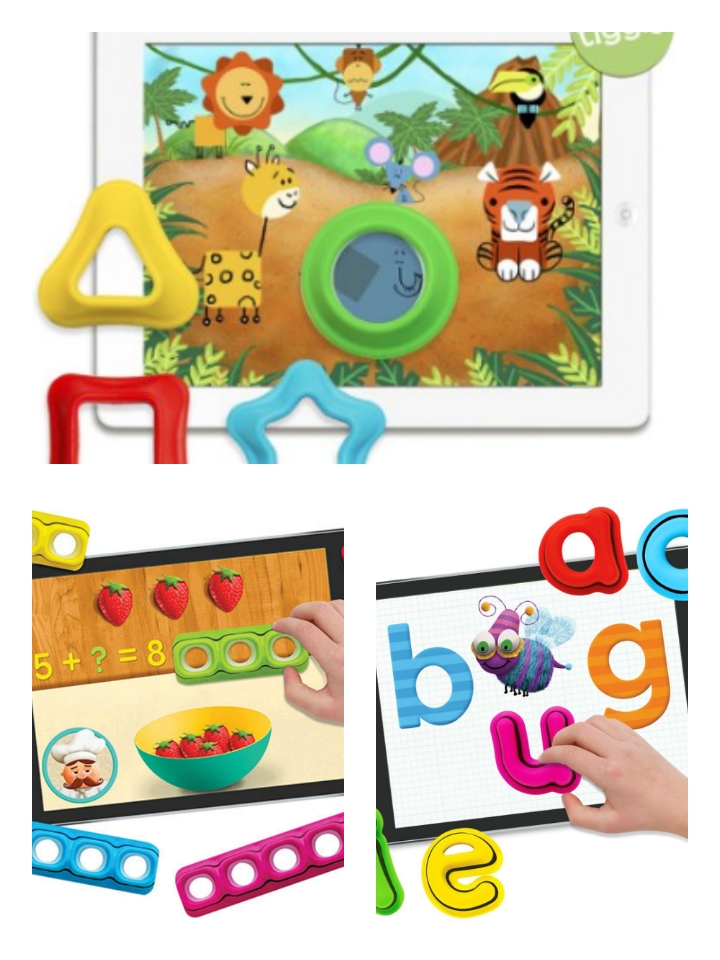 shapes for ages 2 to 5, focuses on shapes, Tiggle Math, teaches basic math to kids ages 3 to 7 and the most advanced kit " Tiggly Words" teaches early reading skills to kids 4 to 8-year-olds.
Today we are going to look at both Tiggly Math and Tiggle Words.
Tiggly Math
Tiggly Math is an entertaining and interactive way for children to learn and work on their fine motor skills as well as their math skills and counting.
Tiggly Math comes with a set of blocks of numbers from one to five. Each app takes you on a different learning journey: Addventure, Chef, and Cardtoons. The toys, inspired by Cuisenaire rods used in Montessori, encourage hand-eye coordination and quick thinking.
To get started and set things up — you first download the 3 APPS for Tiggly Math from either the iTunes APP Store for your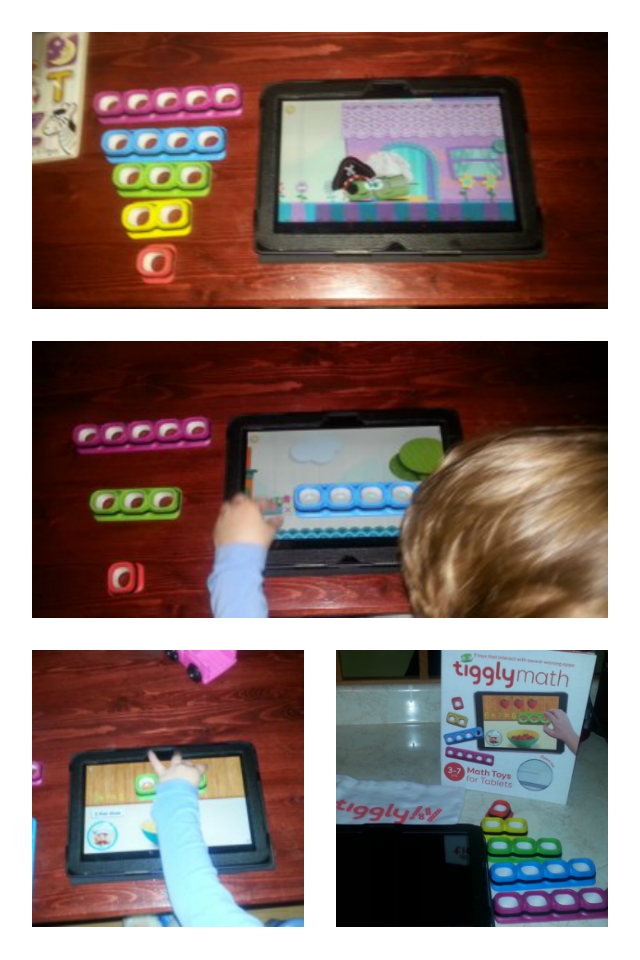 IPod or Google Play for your Android device.
Once you have them downloaded find the icon on your tablet or IPad and double tap to launch the game(s). You can choose to play any of the apps using the Tiggly toys or simply by using your fingers. If your child chooses toys, they'll have to unlock that version of the game using the toys the first time they play. I would suggest playing with the counting toys, before handing them over to your child so that you get to know how the pieces work. We noticed when using a screen protector, the app has a hard time reading the input from the toys. Also the toys must be pressed on the screen firmly to get it to work consistently with the app.
Each Game requires a different set of skills and even motor functions.
Cardtoons focuses a lot on basic counting skills and combines motor skills with the counting. After each number is counted, an animated scene appears on the screen and plays out for your child to enjoy. Tiggly Cardtoons, is adorably creative, and seems better suited to younger kids like my daughter who is still practicing her early counting skills.
Tiggly Chef combines the fun of cooking and recipe building with measuring and counting math. The app encourages interaction by letting your kids create their own recipe. Kids will have fun deciding how many vegetables or produce items they wish to use. In Tiggly Chef we found each level to be more challenging than the last, and each Chef has his own unique recipes. An added bonus to Tiggly Chef is that kids not only learn to count and compare, but they also learn to recognize different foods.
Tiggly Addventure is probably best for kids 6 and up, with the challenge of completing number lines in the correct sequence in order for their character to make it safely to the other side and on to the next level.
Our daughter is very much at the beginning stage of the Tiggly Math learning process. While she is beginning to learn to count objects, she doesn't yet recognize numbers. Three and a half, is the age in which children are typically able to recognize one digit numbers- so she is certainly going to get long time use out of Tiggly Math.
Tiggly Words
Tiggly Words, one of the newest additions to the Tiggly family, challenges children to ask questions, learn new skills, and get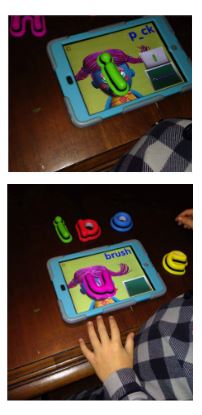 creative. Tiggly Words is aimed at children aged 4-8 years old. Our young tester is 6, so he is very much in the middle age range. Tiggly Words comes with 5 vowel toys and 3 free learning apps designed to work together. Each vowel toy is a different color, and features silicone touch points on them, which the tablet reacts to, as it would a child's fingers.The learning apps are Tiggly Submarine, Tiggly Tales, and Tiggly Doctor.
For our review: our tester played Tiggly Doctor, as downloading the other two apps were giving an error message that read "this item is currently being modified, please try again later."
In Tiggly Doctor, kids get to learn short and long vowels and work on flexible thinking while learning over 100 verbs. Children direct different patients into the doctor's office and complete words using the vowel stampers to help the doctor advance through their visit. For example, adding a "U" to complete the word "Brush" to brush the patient's teeth.
All three apps can be enjoyed with the use of your child's finger tips just like any other app; however, our tester much preferred to use the Tiggly interactive vowel toys! Overall, Tiggly Words is a great learning tool to help build a child's vocabulary and spelling.
With both games the toys are durable and robust for children to use and handle. The animations on all Tiggly apps are impressive and the colors are fun and engaging. The drawstring bag that is included with each set is a helpful feature to insure the toys don't get lost.
You can purchase Tiggly Shapes, Tiggly Math and Tiggly Words from Amazon.ca and Amazon.com. All 3 are a unique option this holiday season for children who would enjoy a new way to play with their iPad or Android tablet.
Tiggly and Sesame Workshop have partnered to develop an exciting new connected app experience, SESAME STREET ALPHABET KITCHEN. Available Thursday, November 26th, just in time for the holidays, this early literacy app invites kids to build words, explore language patterns and discover sounds while creating cookies with Cookie Monster.
What makes this product unique is the careful integration of physical gameplay with Tiggly Words toys. For the first time, children can play with their favorite Sesame Street Muppet™ friend, Cookie Monster, and their favorite Tiggly toys. With an engaging original storyline, new animated video developed specifically for the app and tactile play enabled with Tiggly Words, the app is an engaging educational experience for young learners.
Sesame Street Alphabet Kitchen app will be available as part of the Tiggly Words Learning System, but can also be played without Tiggly toys.
Sesame Street Alphabet Kitchen will be available on Thursday, November 26th, for download on the Apple App Store for $2.99, or is available for free as part of the Tiggly Words Learning System — five specially designed vowel toys that interact with 4 included apps.
To download the app, visit https://itunes.apple.com/app/id1039971485
To watch the app in action, visit: https://vimeo.com/145610029
About Tiggly
Tiggly's vision is to create better learning opportunities for children by taking advantage of digital tools. It was founded by two Harvard Business School alumni and a Ph.D. candidate in education at Columbia University's Teachers College. The company's flagship product, Tiggly Shapes, re-imagines creative play by combining physical toys with iPad apps. Learn more at www.tiggly.com