Mother's Day is a perfect opportunity to celebrate the women in our lives . If you are on the hunt for a thoughtful and affordable gift for that special woman, deserving of some recognition, you can find a variety of unique presents and heartfelt greeting cards at any of the Hallmark Gold Crown stores across Canada. In the following post we will look at some of the best Mother's Day Gifts from Hallmark.
From home decor items to photo keepsakes to an assortment of gift bags, and Mother's Day cards, Hallmark Canada has everything you need, located under one roof, making it easy and convenient to shop.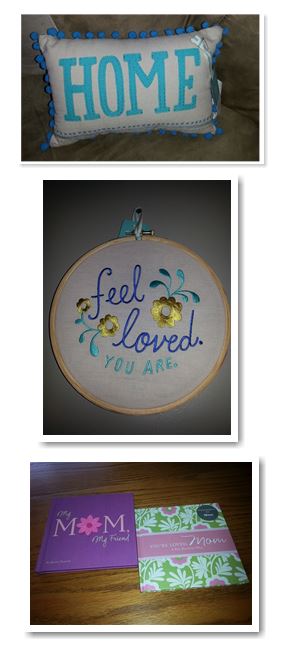 Embroidered Pillows: Home is where mom rest's her head.  After a long day, let her rest her head on this puffy, embroidered throw pillow with all the comfort, relaxation and contentment of home.  The pillow is embroidered on one side with the word home, and the opposite side says family.  These pillows also come with embroidered sentiment for Nana,  and Grandma too.
Embroidered Sentiments: Celebrate her in a bigger way with these 'Large Embroidery Hoops' from Hallmark.  Available in an assortment of designs including: Grandma love is nothing to mess with, feel loved-you are, There is big love in little moments.
Gift Books: "She's more than your mom—she's your best friend. Tell her how special you think she is with this heartfelt tribute that she'll reach for again and again." Written by Renee Daniels, the book includes 96 pages of reasons why she is special to you.

Small Ceramic Desktop Whiteboard with Dry-Erase Marker: What better way to tell her how you feel than with a speech bubble whiteboard! This creative concept sits nicely on her desktop and she can use it to write down daily reminders to herself. Dry-erase marker included.
Gift cards: Hallmark carries a broad variety of beautifully designed Mother's Day cards.  From sentimental to humorous, greeting cards  Hallmark provide a huge array of Mother's Day cards, capturing just the right message.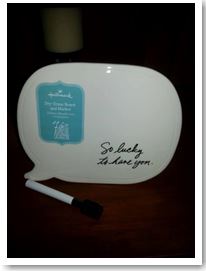 Gift Bags:  Bags, bags and more bags. From classic and elegant to whimsical and casual, Hallmark offers a wide range of mix-and-match gift wrap, gift bags, gift boxes, coordinating tissue and fun extras such as bows, trims, ribbons and tags.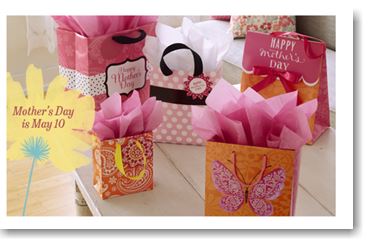 Available at Hallmark Gold Crown® stores across Canada and wherever Hallmark products are sold.
What is the best Mother's Day gift you have ever received?