Mother's Day is this upcoming Sunday May 12th. With that said, many of us find ourselves stumped when trying to come up with a unique gift idea that she'll love. Whether you're shopping for your wife, mother, grandmother, stepmom, aunt, sister, or another woman in your life, Hallmark offers a wide range of meaningful mother's day gifts to fit any budget which will perfectly capture your unique relationship.
Patina Vie Rain Flowers Umbrella
Mother's Day flowers abound on this stylish and functional Patina Vie umbrella. Not only do these umbrellas look like works of art when opened, they are functional as well.  With a push-button design, it's easy to carry, use, and store. The stylish umbrella is available in Pink Blooms, Purple and Green Floral, or Rain and Flowers. We are certainly not lacking for rain here in Ontario and as soon as I am more mobile I will be putting my umbrella to good use.
Mark & Hall Blue Boho Kimono scarf
The matching Mark & Hall Blue Boho Kimono scarf will wrap her like a warm hug on chilling spring days. The beautiful scarf really makes a statement when you pair it with a spring outfit.
Mother Picture Frame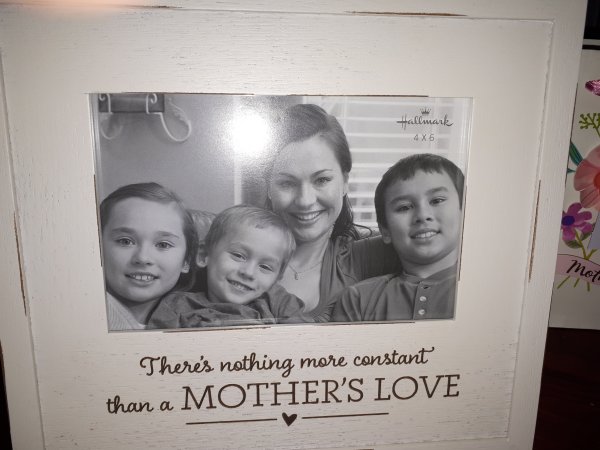 A picture is worth a thousand words. Capture her favorite memories with a pretty picture frame.  She will smile every time she glances at her desk. With its neutral whitewashed design, the fame is perfect for displaying with other framed photos of the family.
Give mom a hug in a mug!
There's no better way to honor the important women in your life than with a gift that speaks to their passion for coffee. Made of ceramic with an antiqued paint finish, the 12 oz mug is the perfect gift for mom, Nana, grandma, great grandma, or step mom. The cup is also available in two Spanish versions. Want to really pamper her this Mother's Day? Treat her to an endless supply of her favorite coffee.
Instead of flowers, why not get mom some live plants to brighten up her home. Turn the mug into a coffee mug planter by adding a cactus.
Scented Candles
She deserves to relax and feel pampered on Mother's Day, and there's no better way than by filling her home with a warm, indulgent scent. She'll think about you every time she lights a scented candle from Hallmark.
Each candle burns for 35-hours so she'll be thinking about you lots. The lovely scented candles cast a beautiful and serene glow through the glass jar. Choose from Linen Fields, Morning Grove, Garden Terrace, or Vintage Bouquet.
Hallmark Paper Wonder Mothers Day Card for Mom
With more than 1,200 Mother's Day cards available, recognizing all types of moms and mother figures, including an
expanded selection of Paper Wonder pop-up cards, this year's Mother's Day collection includes the perfect card for everyone and every type of relationship.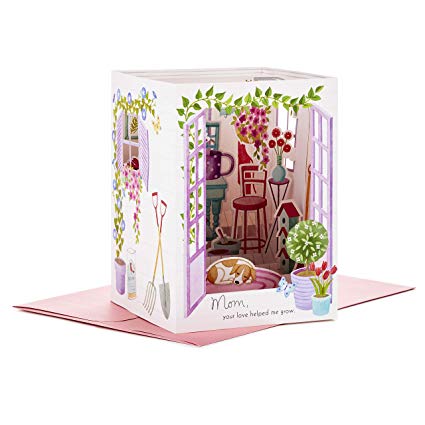 Mother's Day, Paper Wonder cards add new dimension and unique storytelling through memorable paper craft artwork in 35 different designs that double as a keepsake for Mom.
Any gift from this collection of meaningful Mother's Day gifts is sure to make her feel special. Don't forget Hallmark Canada for your bags and tissue paper for all your precious Mother's Day gifts.
These Mother's Day gifts and all things Mother's Day can be found at Hallmark Gold Crown® stores and other participating Hallmark retailers nationwide. For all she does, all she is and all she gives, the best gift that you can give mom this Mother's Day is your time.