Heavenly Hug Angels
Finding the right Mother's Day gift can be challenging, especially when you're deciding what to give a mom residing in a home. Heavenly Hug Angels is the perfect gift. This 24" soft washable terrycloth Angel doll will her that in these uncertain time she is not alone.
Heavenly Hug Angels were created by Gloria Mecca after the tragic death of her son. In her deep sorrow, she started to meditate and one day during meditation a clear image of an Angel doll appeared to her. It had long arms with Heavenly Hug written down one arm and Hug You over the heart. She jumped up and drew what she had seen. She bought fabric and worked hard to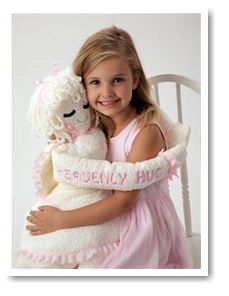 make a pattern to recreate what she had seen in meditation.
The dolls were initially intended for children in hospitals; abused children or keepsakes for someone who lost a loved one.
A short time after they went on Market, in late 2008, Gloria learned that adult children were ordering the angels for their parents and grandparents living in nursing homes.
Several studies have actually shown that interactions with a stuffed animal or doll increase happiness and provide a calming effect. A recent study also revealed that dolls can play a significant role in dementia intervention for patients in nursing homes.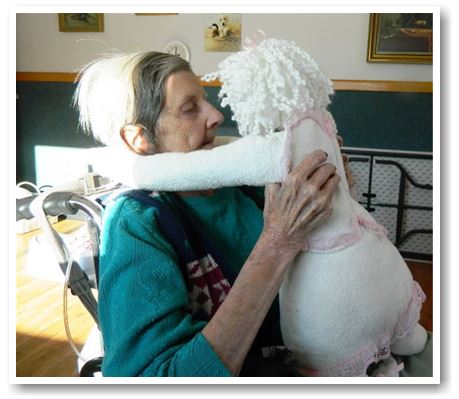 It is my strong believe that "Heavenly Hug Dolls" would make the perfect gift.
In July of 2014, my oldest daughter suffered a traumatic brain injury while riding an ATV. The accident has changed our lives. During my daughter's weeks in intensive care, family members brought her several stuffed animals from the gift shop. Weeks and months following the accident it was these stuffed animals, which appear to have a soothing calming effect during moments of  my daughter's extreme agitation.
My daughter was released from hospital in November of 2014. At age 24, she's now the odd woman out living in a facility that
caters to frail seniors. My daughter is waiting for a group home to materialize that can accommodate her medical needs, as well as help her along in her journey to hopefully someday live more independently. Over the course of the last six months, my daughter has been slipping into depression, partly due to the loneliness of her surroundings, among other reasons associated with such a tragic accident.
Often times the psychological and social needs can be as challenging, as the physical demands of her disability. At one time my daughter used to look forward to trips to the beach, camping, riding a bike and a future. Now she looks forward to when family and friends visit. It's lonely and when I presented her with her own personalized "Heavenly Hug doll"," tears begun to form in her eyes. She has chosen to name the doll Journey.
It is my hope that her "Heavenly Hug Angel" will bring her comfort during those times when she is lonely, if only serving as a reminder that she is not alone in her journey- that I am always there.
It has been scientifically proven that receiving and giving hugs calms our nervous system and boosts positive emotions. Heavenly Hugs Angels long arms wrap around my daughter's neck, allowing her to give the doll a big hug. Holding the doll against her chest can help her feel safe and may ease some anxiety.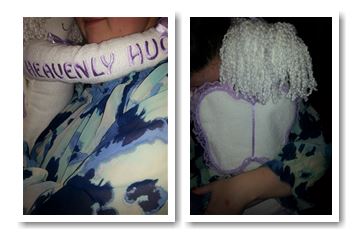 My daughter has received many compliments on her "Heavenly Hug Angel" and has been asked by residents and staff where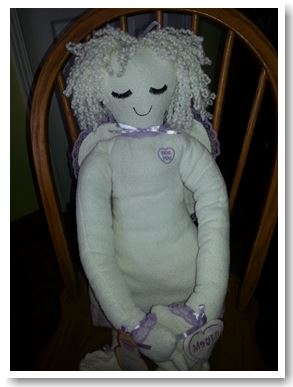 the dolls can be purchased.
I think it easy to see why, Heavenly Hug Dolls are the perfect Mother's Day gift.
Mother's Day can be a very depressing time for those of us who have lost our mother. Why not consider visiting a senior in a nursing home, or senior center who might not otherwise have any visitors on Mother's Day and take her a "Heavenly Hug Doll."
I would like to extend a very special thank you to Gloria mecca for her gift of a doll to my daughter.
What are you doing to celebrate Mothers Day? What are some pass Mother's Day gifts that you've given to a senior mom that she has cherished?