Smartsun UV Indicator Wristbands Help Canadians Enjoy Sun More Responsibly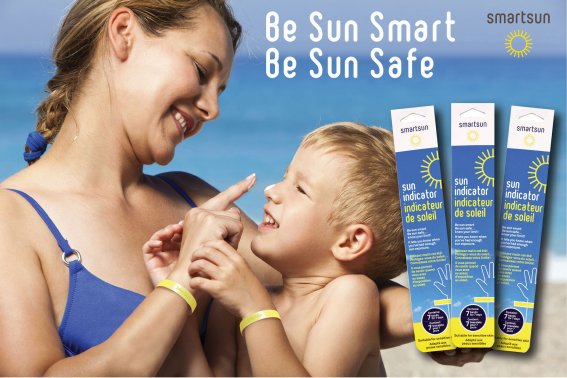 Now the weather's heating up I thought it'd be the best time to tell you about SmartSun. Smartsun, is a discreet thin wristband that measures the amount of UV radiation you've been exposed to and changes colour accordingly. Smartsun alerts wearers to the dangerous levels of UV exposure by changing color from yellow, then shifting to a beige when you need to apply more sunscreen and, finally, turning to pink when it's time to head indoors.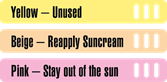 "1 in 7 Canadians will develop skin cancer during their lifetime" says Claes Lindhal, President of Intellego-Technologies.  "We are thrilled to introduce Smartsun to Canadians to help them enjoy the sun more responsibly".
"In today's age of sun awareness we know that overexposure causes premature aging of our skin and increases the risk of skin cancers.  Research shows that up to 90% of skin aging can be caused by UV exposure." says Aaron Moscoe, President of Smartsun distributor TPS Promotions & Incentives.
I love this idea of these wristbands and think it is brilliant, not only for children, but for adults as well. 
One year ago this upcoming July 29th, my oldest daughter was involved in an ATV accident. As a result she suffered a catastrophic brain injury. These wristbands from Smartsun have been the perfect tool to help her judge,  when she has had too much sun.  She tested the ban out a at the beginning of July during some time out in the sun and she was really surprised at how fast they changed color letting her know she needed to apply more sunscreen.   For her, due to memory impairment it was a really handy guide to help keep her safe from too much sun exposure.
I have also warn the wristbands on my two 1/2 year old during some summer outings and she didn't mind wearing the band at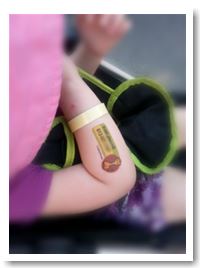 all, though I did need to trim the band to fit.
When applying sunscreen make sure you apply it to the sun-band as well.  If you're spending time in the pool,  you don't have to worry as the water will not affect the bands! Smartsun wristbands are waterproof (not affected by salt or chlorine), non-allergenic and suitable for all skin types including fair and sensitive skin.
I think these are also very useful for cloudy days when it's harder to judge how much UV you've been exposed to.
The only real downsize to Smartsun wristbands is the cost.  At a cost of $1.00 per wristband the price might be a deterrent for some people, but don't less them stop you from picking up some for occasional use when traveling or enjoying summer events.
On a side note if you're looking for the best sun creams in terms of protection I highly recommend Garnier Ombrelle 100% Mineral Lotion SPF 50+ for Kids. Ignore that it says kids. Adults can use it as well.
About Smartsun:
Proudly hailing from Sweden, Smartsun is a brand dedicated to helping you have fun in the sun. The Smartsun wristband is a UV indicator, which changes colour when it's time to reapply suncream or stay out of the sun for the day.
The idea for the wristband was born when the Smartsun team became tired of getting sunburn. When you're having fun on holiday – sunbathing, swimming, hiking – it can be impossible to remember when you last put on sun cream. There's nothing like a painful, red burn to ruin a good holiday, and we found there wasn't a product on the market which could accurately tell us the optimum time to top up on sun protection.
Developed by researchers at the University of Strathclyde and manufactured and tested in Sweden, you can rely on the safety and accuracy of the Smartsun wristband.
Smartsun is distributed exclusively in Canada by TPS Promotions &Incentives, a Markham, ON based company providing promotional marketing solutions to leading brands across industry sectors.  Smartsun UV Wristbands will be available at retail only at Shoppers Drug Mart and Pharmaprix stores.  Each package of seven Smartsun UV wristbands will retail for $7.99.