Dry air, can wreak havoc on your child's eczema. A cool air humidifier can help, in addition a cool mist can also relieve colds and congested sinuses, ward off flu symptoms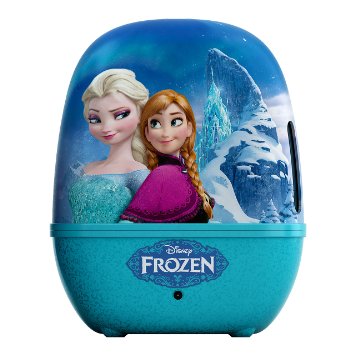 and sooth wheezing in children with asthma.
Furthermore, when babies or a small child come down with a cold or respiratory infection, they cannot take the same over-the-counter drugs that an older child can; therefore pediatricians and doctors often frequently recommend a humidifier.
An added benefit of humidifiers is that they also help young children like my daughter sleep. The rhythmic hum of a humidifier provides a soothing white noise.
There are so many choices of humidifiers available to parents that knowing which one to pick can feel overwhelming.
Why not help your daughter stay healthy this Winter season with a Disney Frozen Ultrasonic Cool Mist humidifier. Emson manufacturers a line of humidifiers that feature Disney Frozen characters.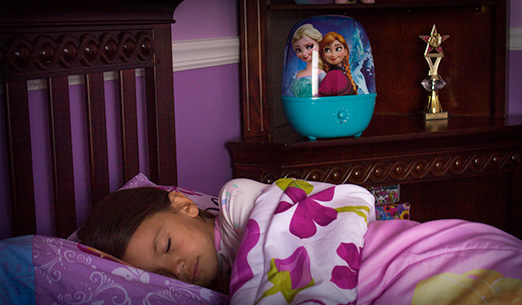 Sometimes when you buy a character shaped appliance, they cut down on features, however this is not the case with the Disney's Frozen-Elsa and Anna Capacity Ultrasonic Cool Mist Humidifier. Instead, it is filled with features that make it a top notch humidifier. It's ultra quiet, so it won't disturb your daughter while she sleeps.
Additionally, the unit features Anti-Microbial Protection, which will keep your child's room free from developing mold and mildew, which is common when using a humidifier for an extended period of time. It is also ultrasonic verses Impeller, which means it uses high-frequency sound waves to produce mist.
This cool mist humidifier has a one gallon capacity. That may seem small, but that's enough water to keep this humidifier running for 24 hours before you need to refill it.
Plus this is a filter-free product, so you don't have to worry about changing or cleaning the filters, which can get quite tedious.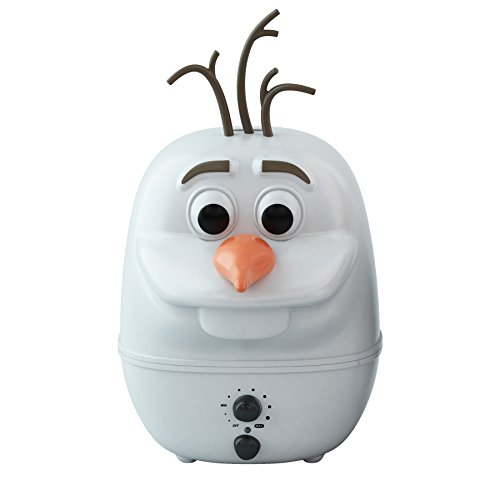 The Frozen-Elsa and Anna design simply slides over the actual tank, and you unscrew it to fill with water, place on the base and then place the design back over the tank and use buttons on the front to adjust how strong you want the mist to come out.
The humidifier also features an automatic shut-off, which saves energy. Humidifiers without this feature will keep running even when there is no water in the machine.
I think the "Disney Frozen Ultrasonic Cool Mist humidifier" would make a great gift for any household, with a frozen fan who is in need of a humidifier.
If Frozen-Elsa and Anna is not your style, this ultrasonic cool mist humidifier also comes in  Disney Frozen's Olaf, R2D2, and Darth Vader designs.
Emson products can be found at BuyCoolMist.com and Amazon.com.