A beautiful, bright and white smile is a gift you can give your children year-round. Santa is so excited about brushing; he is planning to stuff their Christmas stocking with fun oral health gifts that will help them learn more about maintaining their dental health.
A New Toothbrush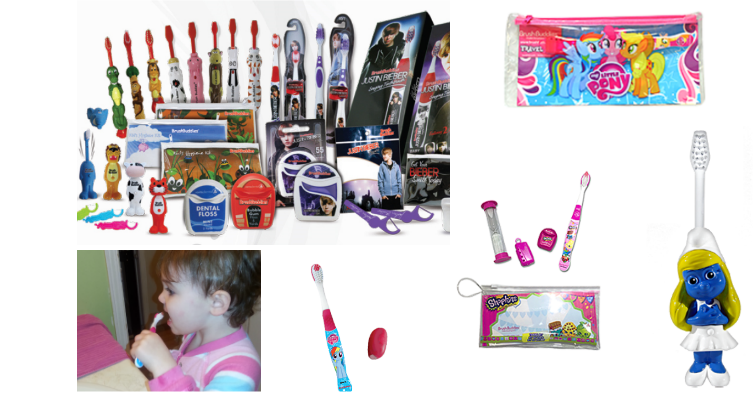 Who doesn't enjoy a new toothbrush? Brush Buddies make brushing teeth super fun. The company has developed a wide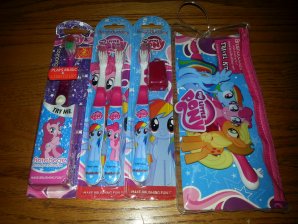 range of toothbrushes that appeal to children of all ages. My daughter loves "My Little Pony," so the "My Little Pony" toothbrush was a natural choice for her, though we were also leaning towards the "Wiggle" toothbrushes too.
The "My Little Pony Travel Kit" comes with a Clear zipper sealed travel pouch great to take on vacations or sleepovers, a My Littly Pony soft toothbrush and a hygienic toothbrush cap. It is the perfect stocking stuffer.
Brush Buddies, recently added Shopkins, a collectible line of super cute grocery-themed characters from Moose Toys to its line of character based toothbrushes. The Brush Buddies Shopkins Toothbrush collection features exclusive designs with characters including Kooky Cookie, Apple Blossom and Strawberry Kiss, to name a few.
Brush Buddies also come in several other styles for older kids– One Direction, WWE, Lady Gaga and more!
Brush Buddies line of toothbrushes is made of high quality bristles that are long lasting and offer better cleaning. Many of them include brushing timers as well.
Brush Buddies Monkey Flossers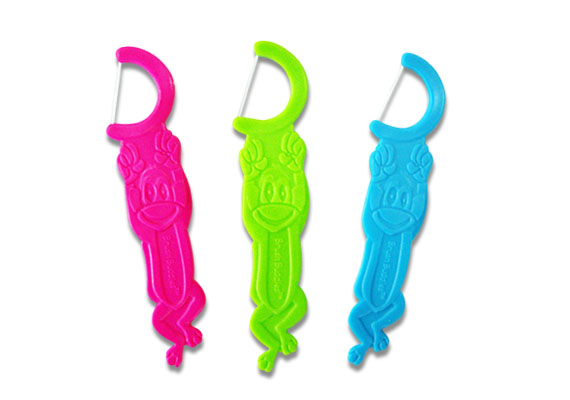 These flossers are colorful and fun, and they will get any child excited about flossing their teeth after meals.
A Tooth Pillow and Books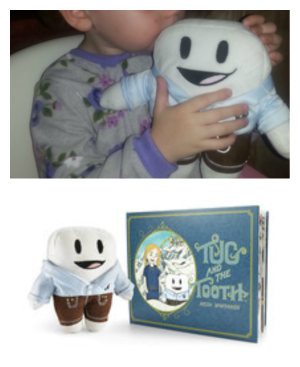 We love "Tug and the Tooth" and your kids will too. Tug is a hug-able, lovable character shaped like a tooth. He has a cool backpack to place a lost tooth for the Tooth Fairy. He comes with an illustrated storybook to commemorate the loss of a child's first tooth. In the story, Tug comes to life in Liza's dream and takes her on an adventure to the Tooth Fairy's castle. She meets characters along the way who teach her life lessons, and also how to take care of her teeth.
Website: TugAndTheTooth.com
A Tooth Timer & Silly Toothbrush Holder

The Heidi Kids Happy Horse Toothbrush holder ensures your child brushes their teeth for the correct amount of time, as well as gives them a place to store their toothbrush. Turn over the hourglass timer and let them brush until all the sand gets to the bottom of the hour glass and then do your inspection.The timer works like a charm and by making a game out of brushing, kids will want to brush. Heidi Kids tooth brush holder and timer comes in four fun designs- Happy Horse, Funny Frog, Wood Sprite and Wood Elf. Designed in Canada and made in Germany, Heidi Kids tooth brush holders paints are water-based and 100% non-toxic and saliva-resistant.
Tooth Fairy Tykes
The Tooth Fairy Tykes has a timer app you can download to get your kids to brush for 2 solid minutes. They also have a free
e-book that introduces you to the Tooth Fairy Tykes, which are available for purchase via toothfairytykes.com.  Tooth Fairy Tykes are similar to the elf on a shelf. When a child has lost a tooth the tooth fairy sends a Tooth Fairy Tyke to help your child through the process of losing a tooth. Your child names their tooth fairy and sleeps with it until the tooth falls out.
A Wacky Toothpaste Flavor
Helps protect your kid's teeth against cavities and bad breath with toothpaste in fun flavors like Strawberry and Watermelon, which will encourage your kids to brush.
We hope you have enjoyed these Teeth-friendly stocking stuffers. Enjoy your Christmas holidays, but make sure that your kids stay on Santa's nice list by taking good care of their teeth.
About Brush Buddies


Ashtel Studios, Inc. is the maker of Brush Buddies, the world's leading provider of entertaining and educational oral care products. Appealing to consumers of all ages, the line includes a wide range of fun and entertaining toothbrushes, bandages, hand sanitizer and facial tissues featuring some of today's hottest musicians, character licenses and pop culture icons. Website: BrushBuddies.com