Second Cup Coffee Co.™ has introduced a new drink to keep you refreshed during the hot months of summer.  Ice cold and subtly sweet, the Frappé is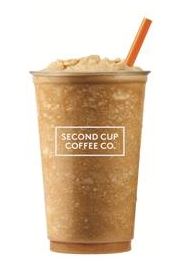 a coffee-forward beverage that is handcrafted and fully-customizable. Unique to most blended beverages, the Frappé starts with a freshly-pulled shot of espresso – never a coffee based mix. The espresso is combined with the coffee lover's dairy of choice, ice and a flavour shot, if desired. It's then blended to ice cold perfection.
Continuing the brand's commitment to offering a premium, personal experience, every Frappé is customizable to meet individual preferences:
• Espresso – the base is a freshly-pulled shot of Espresso Forte, a dark-roasted blend that's velvety thick and richly flavoured. Customers can add an extra espresso shot, for a caffeine boost, or choose decaf if they want the espresso flavour with less kick.
• Dairy: the Frappé can be made with 2%, skim, soy or lactose-free milk.
• Flavours: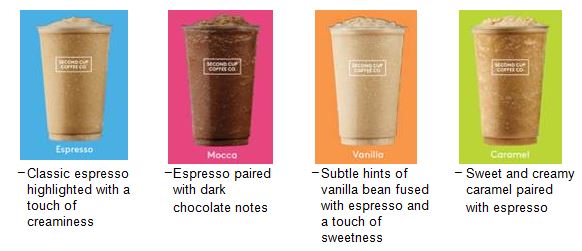 − Classic espresso highlighted with a touch of creaminess
− Espresso paired with dark chocolate notes − Subtle hints of vanilla bean fused with espresso and a touch of sweetness − Sweet and creamy caramel paired with espresso
• The Frappé can be topped with whipped cream, if desired.
The Frappé is now available at all Second Cup Coffee Co.™ cafés across Canada. It's available in four flavours – Espresso, Mocca, Caramel and Vanilla – and is made-to-order in small, medium or large.
About Second Cup
Founded in 1975, The Second Cup Ltd. is a Canadian specialty coffee retailer operating more than 350 stores across the country. All of the approximately 4,000 Second Cup baristas are trained coffee experts who handcraft over 1 million coffee and tea beverages every week, and are committed to ensuring excellence in every cup and the very best customer experience possible. For more information, please visit www.secondcup.com or find the company on Facebook and follow them on Twitter @secondcup