If you're like me, you're no stranger to sitting down with a box of Girl Guide (Girl Scout) mint cookies and before long realizing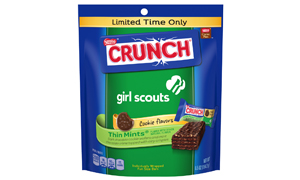 that you ate almost half of the box.  They are totally addictive and the same is to be said about Nestle Crunch Girl Scout Candy Bars. They are the perfect combination of chocolate and mint to fulfill my craving.
Sadly they are only available now through September, and disappointingly they are only available for sale in the US. I highly suggest if you notice them to grab up as many as you can and feel free to purchase some for me as well.
These delectable little pieces of heaven offer the chocolaty crunch of a Nestle Crunch Bar with the same desirable flavor of a Thin Mint cookie. Each bar features dark chocolate cookie wafers and mint chocolate crème, topped with airy crispies and a rich, dark chocolatey coating. Each package is split up into two mini bars, making it super easy to share with someone. I was nice! I shared with both my husband and youngest daughter.
Nestle Crunch Girl Scout Candy Bars make a nice after dinner dessert when served with a cup of mint tea, or an afternoon treat next to your refreshing glass of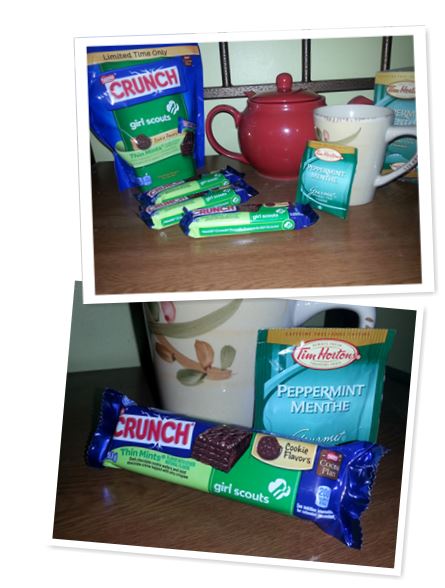 mint water, chilled and cold from the fridge.
Nestlé Crunch Girl Scout Candy Bars are produced under license from Girl Scouts of the USA and come in two additional varies, as well as my favorite- Thin Mints.
Caramel & Coconut – Cookie wafers layered with coconut caramel crème and chewy caramel, topped with toasted coconut and drizzled with caramel stripes.
Peanut Butter Crème – Cookie wafers layered with smooth peanut butter crème, topped with airy crispies and a creamy, chocolatey coating
Conclusion: Why are these only available in the US?
Have you seen or tried the Girl Scout candy bars yet?
"Nestlé USA purchases enough sustainable, certified Nestlé Cocoa Plan beans to produce the entire line of everyday NESTLÉ CRUNCH bars, the company's 75 year old flagship confections brand, as well as the limited edition Nestlé Crunch Girl Scout Candy Bars. The beans are certified by UTZ Certified, an independent organization focused on developing sustainable farming practices and better opportunities for farmers and their families. The Nestlé Cocoa Plan is a Nestlé global initiative developed to help improve the lives of cocoa farmers and the quality of their products, while also assuring a sustainable cocoa supply for years to come. Additional information may be found at www.nestlecocoaplan.com."
About Nestlé USA Named one of "The World's Most Admired Food Companies" in Fortune magazine for eighteen consecutive years, Nestlé provides quality brands that bring flavor to life every day. From nutritious meals with LEAN CUISINE® to baking traditions with NESTLÉ® TOLL HOUSE®, Nestlé USA makes delicious, convenient, and nutritious food and beverages that make good living possible. That's what "Nestlé. Good Food, Good Life" is all about. Nestlé USA, with 2014 sales of $9.7 billion, is part of Nestlé S.A. in Vevey, Switzerland — the world's largest food company with a commitment to Nutrition, Health & Wellness — with 2014 sales of $100 billion. For product news and information, visit Nestleusa.com or Facebook.com/NestleUSA.