Cooking is a fantastic activity for children, but with busy schedules, some of you may be wondering how you can incorporate family time into the cooking process. Involving kids in meal preparation may be easier than you think. The Little Potato Company has launched a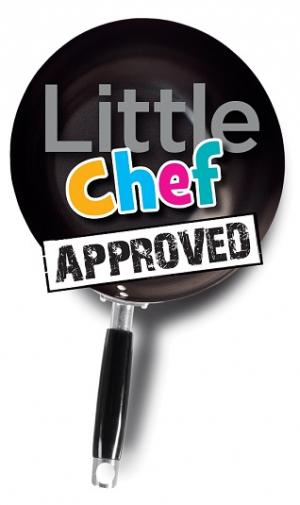 new program to provide tools and tips to make it easier for parents to cook with their children, while still having fun together.
The program includes a growing collection of "Little Chef Approved" recipes featuring Creamer potatoes, as well as tips for cooking with kids of various ages- from five to 13. The Little Chef Approved recipes are popular not only with kids, but with adults, too. Recipes include Little Chef Poutine, Potato and Ham Frittata, Tattooed Potatoes and more.
This unique program is proven to enhance a child's social abilities, nutritional values and even mathematical skills right in the kitchen!
Research has shown that food preparation and cooking skills impact both kids' and teens' food choices. When kids are exposed to fresh, unprocessed foods and learn to prepare them well, they are more likely to feel comfortable buying and cooking these foods as adults.
The potatoes are the perfect size for kids to handle and eat. Plus you can get ones in multi colours! Here are some important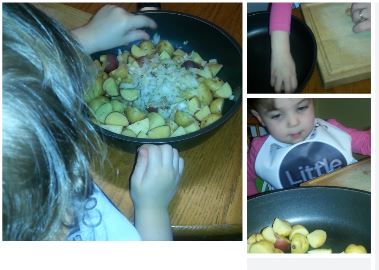 facts about Creamers:
Most importantly, Creamers are a vegetable
Creamers are little, but all grown up – they aren't an immature version of bigger potatoes
One serving of Creamers delivers more potassium than a banana, so they're an excellent source of potassium.
They're also a source of Vitamin C and dietary fibre, contain antioxidants and other vitamins and minerals to help meet dietary goals
Creamers are naturally fat, gluten and cholesterol free
Creamers are pre-washed and thin-skinned, so no peeling is required
Average cooking time for Creamers is under 15 minutes
Many folks underestimate how much young children can actually do in the kitchen. My daughter is not quite 3 yet, but she already loves helping in the kitchen. There's a surprising amount she can accomplish in the kitchen, such as washing vegetables, setting the table, putting away groceries, sprinkling cheese on top of the casserole, and much more. I don't mean to brag, but she can make quite the peanut butter and jelly sandwich.
For Small Hands (forsmallhands.com) even caries a variety of unique, real kitchen tools specifically designed for children as young as three.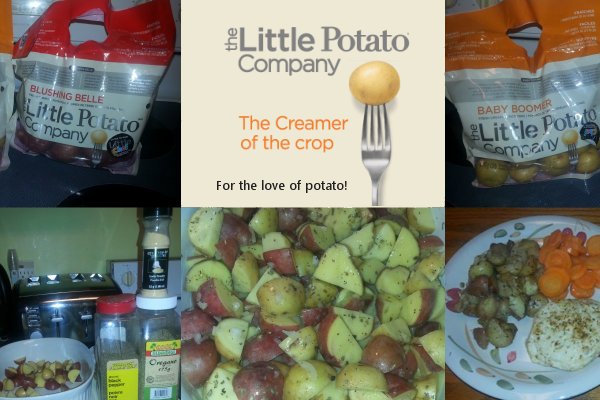 1 bag of Baby Boomers and 1 bag of Blushing Belle
1 red onion diced fine into small pieces
2 tbsp oregano
1 tablespoon garlic powder
1 tsp black pepper / salt
¼ cup vegetable oil
Cut the creamers into 4 quarters, and place them in a large bowl. Add all your ingredients, then add a quarter cup of vegetable oil. Stir everything together. Once they look evenly coated with oil and seasoning, transfer them into a large casserole dish with lid. Bake at 450°F for 30 to 35 minutes or until potatoes are brown and crisp. Serves 4 to 6 people
While this recipe includes red creamers, as well as white creamers, you can choose to roast just one or the other if you prefer or use Terrific Trio- a colorful combination of Creamer potatoes. Red, yellow and blue.
My husband included my daughter in the meal-making process of these delicious oven roasted potatoes using Creamer potatoes. She gathered the potatoes from our cupboard, placed the potatoes in the dish and stirred the ingredients.
This is one dish that will ensure your kids eat their veggies! Served up with fresh sweet carrots, and Janes Ultimate Chicken Burgers, which were seasoned with lemon chicken seasoning.
Do you enjoy cooking with your kids? How are some ways you include them in the kitchen? What was the last thing you cooked with your little ones?
The Little Chef Casting Call
The Little Potato Company is currently sponsoring a contest with The Marilyn Denis Show on CTV to invite Canada's keenest little chefs, ages 8 to 13, to create and share a video showing them preparing their favourite original recipe using small potatoes. The winning chef will receive the grand prize of a family adventure for three people in Paris, courtesy of The Little Potato Company, including airfare, accommodation, two-day park passes to an entertainment resort, and an ultimate culinary experience. For more information, visit LittlePotatoes.com/LittleChefs.
About The Little Potato Company

The Little Potato Company specializes in little Creamer potatoes, which are grown to be naturally buttery tasting, loaded with nutrition, easy to prepare and offer diverse, colourful and fun varieties. Several unique varieties are available in produce sections across Canada and the U.S., and have been delighting food lovers for almost 20 years. These little Creamers are sold pre-washed and cook in about 15 minutes. They're also available in convenient Oven|Grill and Microwave Ready packs combining Creamers, seasoning mix and speciality trays for an even easier and also delicious experience.
The Little Potato Company is passionate about potatoes and about helping children learn more about food and cooking through their "Little Chef" program at www.LittlePotatoes.com/LittleChef.