Today we have partnered with Canadian company Kiss Naturals. We are giving away not one, but 5 of their all-natural, DIY cosmetic kits to 5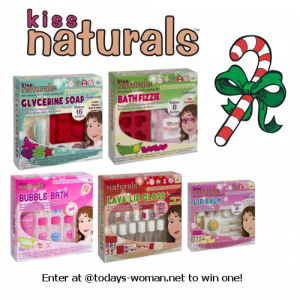 lucky Canadian and US winners. Each winner will receive 1 DIY cosmetic kit. If you have a preteen/ teen daughter in your house then they are going to love these DIY cosmetic kits.
Kiss Natuals has put together cosmetic sets where kids can make all their favorite products. They can also learn a little of the science behind it, and have fun making something so great with their own hands!
Kits we are giving away are Glycerine soap, bath fizzle, bubble bath, lava lip gloss and lip balm.
The kits are sold at stores in Canada, the United States, Australia and Mexico. www.kissnaturals.com