The Lumination Glow Stick Markers are the world's first glow sticks that write! No black light needed to watch your creations glow in the dark. With five awesome colors (each sold seperte) and tekfelt sticker sheets to customize, the creations are endless.
After following the simple instructions of snapping the tube, shaking and then drawing with these fun glowing markers, we were impressed with the bright, creative fun that one can have. The design you create with the glowing ink will last up to a couple hours. The thicker you draw your design, the longer it lasts and glows for.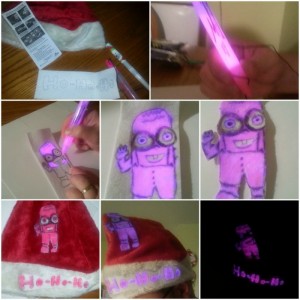 Each pack came with a glow stick marker and lanyard and a self-adhesive felt sticker strip to create your own artwork.
The only thing I would suggest is to make sure to lay newspaper or paper down before using the markers, because they do bleed through, but are really easy to clean up, so it wasn't a huge issue. We had loads of fun and I would definitely purchase the markers for future projects.
You can find out more information at Luminationglowstickmarker.com, including a video and purchasing options.