The holiday season is about giving, not just receiving. As the temperature drops, and the leaves change colour we begin to think about all those that we need to shop for this upcoming holiday season. Whether they're a teacher, a co-worker, neighbor or good friend, Hallmark has a wide selection of inexpensive thank you gift ideas.

Blessing Themed Gifts

The holidays are the time of year to be extra grateful and to count your blessings. Blessing themed gifts are a wonderful idea for close neighbors and friends.
This whitewashed wooden fence sign has a double helping of charm when you read its message: "Count the really good blessings twice." With stenciling mixed with 3D wooden letters, its design is sure to enhance any wall in their kitchen, dining room or wherever they count their blessings. Gift it with a
Willow Tree Blessings Figurine, or blessed bottle.
The blessed water bottle adds a special touch to any decor. It would even look beautiful with small flickering string lights inside.
Do you know someone struggling this upcoming holiday season why not make a blessings basket for someone including all the trimmings for a holiday meal and gift the rustic wooden sign with the basket?
Oven Mitt Teacher Gift
This teacher Christmas gift idea couldn't be easier to create. There is absolutely no crafting ability needed. All you need is an oven mitt, measuring spoons, a wooden spoon, a package of Better Crocker sugar cookie mix, some ribbon and a teacher tag which can be downloaded online.
Hallmark has a nice selection of oven mitts to choose from. I picked up the oven mitt for this DIY teacher gift from my local Dollar Tree.
The farm animals ceramic measuring spoons set from Hallmark is a nice addition to the DIY teacher gift. The set includes 4 sizes: 1 Tbsp. (cow), 1 tsp. (sheep), 1/2 tsp. (pig) and 1/4 tsp. (rooster). Each spoon has a different-colored glaze trim and easy-to-read size noted on its handle.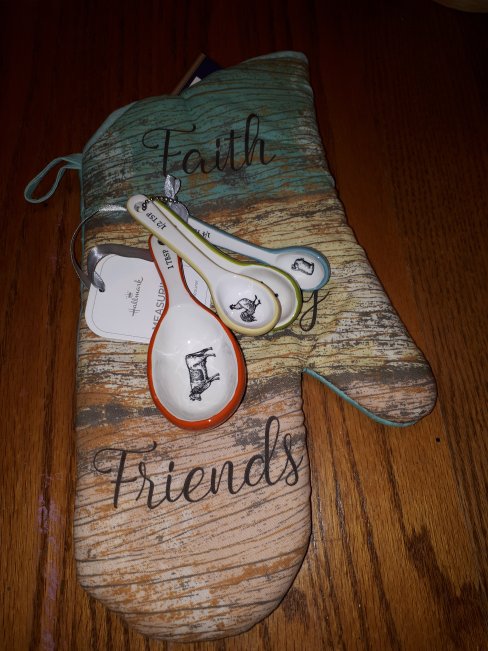 Bowl of Thanks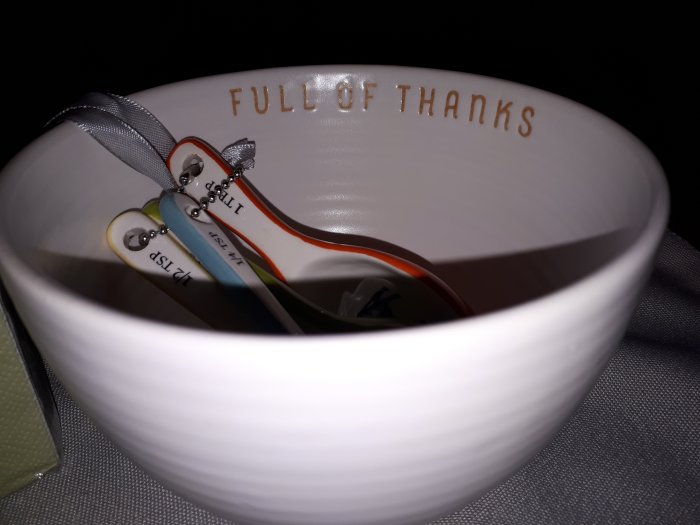 Perfect as a gift for a friend, this useful ceramic bowl is pretty enough to grace the dining room table this upcoming holiday season. With "Full of Thanks" stamped into the speckled finish, it speaks of the happiness a family shares when gathered around the table.
You can also turn the ceramic bowl into a DIY gift for a teacher. Add a napkin to the bottom of the bowl and add breakfast items to the bowl. I chose to add tea biscuit mix, honey, apple cinnamon oatmeal in a tiny mason jar, flavored coffee, and gourmet hot chocolate. Another suggestion would be to do a "pancake breakfast" theme gift kit.
Hallmark also carries 16 onz stoneware mugs which match the stoneware bowl. Choose from several different mugs: Cup of hope, grace, cheer, courage or calm. Include a mason jar of their favorite coffee, tea or hot chocolate.
Potpourri Gift
Put together a great gift of potpourri to give to your family and friends at the holidays. Simply fill a small clear vase with this autumnal medley of dried seed pods, leaves and berries and enjoy a cozy seasonal fragrance that will warm the room. This pretty potpourri mix is a perfect accent to decorating. Northern Woods Bag of Holiday Potpourri would also be a nice choice for the holiday season.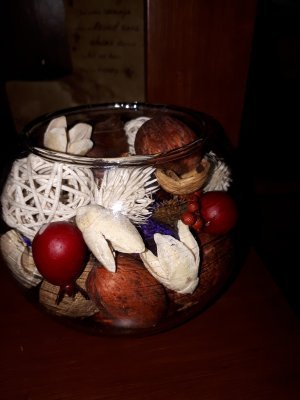 Another lovely gift option is this clear bubbled glass hurricane dual-purpose vase and candle holder. Fill the bottom with potpourri and a flameless candle. The dual vase and candle holder is available in three sizes.
Are you looking for the perfect gift for that person in your life who loves to cook? For an elegant kitchen basket, select a stainless steel colander. Inside include a bottle of olive oil, unique pasta, tomato sauce, pesto, and biscotti. Also include two place mats from the "Saved You a Place" collection. The pretty gray place mat states "Welcome, family…welcome, friends" in cream-colored screen printing along its bottom edge.
 Neighbor gift idea
Hallmark has a nice selection of cutting boards.  Include a package of napkins, such as the Gather Chickens Paper Luncheon Napkins and a new tea towel for a thoughtful gift.
Remember the best Christmas thank you gift is one that comes from the heart. To purchase these falls thank you gift ideas visit your local Hallmark before they are gone and get a jump start on your holiday shopping.
These products and more are available at Hallmark Gold Crown® stores nationwide and participating Hallmark retailers. With a few special added touches from Hallmark, you can make this holiday season unforgettable.
Website: http://www.hallmark.ca
Full of Thanks Giveaway
We are partnering with Hallmark to give one lucky winner the chance to win the full of thanks stoneware bowl that we mentioned earlier. The giveaway is open to Canadian residents 18 and over and will run until Nov 10th 2018.