Santa came early this year. He brought me a 360fly Panoramic Waterproof HD Sports Camera that does just about everything, but fly on its own. I mean just that — this camera is incredible and it comes with so many features and options I just
don't know where to begin telling you about it.
The 360Fly is more than just a camera; it's a full HD Camera / Video Camera. You can capture videos in full HD and in panoramic view up to a full 360 degrees, allowing you to catch everything and miss nothing. Its spherical lens is positioned atop the ball and it can record everything and anything around it. Have you ever wanted to be a fly on the wall? Now you can be!
The 360fly looks nothing like your typical action camera, which are mostly cubed. This camera slightly resembles a house security camera. It's portable and easy to set up and even compatible with existing GoPro mounts.
It is great to take with you on road trips, vacation, and mountain biking, or even snowboarding as its light weight 138g and very compact, but extremely sturdy. The 360Fly comes with a standard tripod-compatible mount, but it can be used as a handheld camera and is capable of attaching to helmet mounts, so you can unleash your creativity and capture video from nearly any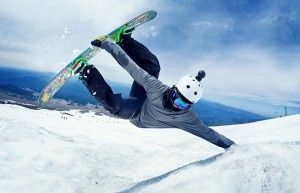 angle.
The ruggedness of the 360fly is next to none. as its resistant to sweat, rain, liquid, sand and dust, giving your camera 360 degrees of protection for any activity or situation. It's also water proof up to 165 meters.
Unlike other cameras that are packed with multiple buttons, the 360fly has only one. You long press it and it turns on (or off) and you press it once to start recording. It also has an LED light that blinks to indicate if it's on, recording or on pairing mode. Apart from this you control the camera from an iOS or Android device, which acts as a viewfinder and lets you preview the videos you've captured.
What happens if you are out of view? Not to worry as the 360Fly also has that covered by adding a vibration motor to let you know when you are out of view. If you are using your 360Fly in a mounted position while recording you can use your Mobile
device to control all the functions of your 360Fly by start recording, pause recording or zoom.
A built-in microphone lets you capture AAC audio, so you can relive the sights and sounds of all your adventures
360Fly's storage is pretty good too, as you get 32 gigs of internal storage which is approximately 4.5 hours of 1080p high quality video.
The 360Fly Built-in Li-Polymer battery holds a charge for 2.5 hours. I got closer to 3 hours of battery life. The 360Fly is rechargeable by setting it on its cradle and using the 2.0 USB cable that's included. It takes approximately 2 hours for a full charge.
The video is sharp and clear with great color and contrast.
The 360Fly APP also comes equipped with editing software, so you can trim cut or view it in full 360 degrees all with a touch of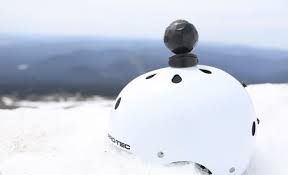 your finger, making the 360Fly Panoramic 360 degrees HD Video Camera extremely easy to use. The 360Fly APP allows you to quickly edit, and share seamlessly with your favorite social networks. With a few clicks and swipes, your sharing your video instantly.
The 360Fly supports both Apple iOS 8+ and Android 4.3+ mobile devices; but it also supports PC Software for Windows 10 or 7 and Mac users OS X, and up! The nice part about the 360Fly's design is you can run multiple cameras at once and manage them all with your mobile device without connecting them to your PC.
360Fly Panoramic 360 degrees HD Video Camera, also has built in WI-FI with the latest standards in Wi-Fi technology using
IEEE 802.11 b/g/n with a (2.4GHz broadband signal). It's also listed as a Bluetooth Smart Device as well.
Overall, the 360 is pretty impressive; it has a decent price and a fantastic design.
Next year, I think I will ask Santa for a DRONE to maybe mount this baby to.
What's in the Box?
Rechargeable Internal Lithium Battery
Power Cradle
USB Cable
Action Camera Adapter
Tilt Mount With Curved & Flat Baseplates
Mic Plug & Strap
Quick Start Guide
Warranty Card & Safety Information
The 360fly costs $599 and it's exclusively available at BestBuy — in store and online.
About Best Buy
As a wholly owned subsidiary of Best Buy Co., Inc. (NYSE:BBY), Best Buy Canada Ltd. is one of Canada's largest and most

successful omni-channel retailers, operating the Best Buy, Best Buy Mobile and Geek Squad (www.geeksquad.ca) brands. With nearly 200 Best Buy and Best Buy Mobile stores across Canada, and an expanded assortment of lifestyle products offered through BestBuy.ca, Best Buy is a leader in Total Retail, catering to customers how, when, and where they want to shop. Best Buy Canada is committed to making a positive impact in the community with programs and partnerships that support youth to connect with technology to advance their education. For more information visit BestBuy.ca.
About 360fly
360fly creates unique, 360-degree digital products that inspire users to capture, share and experience life's greatest moments in 360 degrees. Our passion has led us to redefine video capture, because we believe life is too rich to capture just part of it. To learn more about 360fly, visit www.360fly.com
360fly Camera Giveaway
In partnership with Best Buy Canada,  Today's Woman, @DezJake on Instagram and myself at BloggingFusion Blog Directory we are giving you faithful Canadian reader the chance to win your very own 360fly. Keep it for yourself or give it away as a gift.
You can get the 360fly exclusively through Best Buy for ($529.99.)