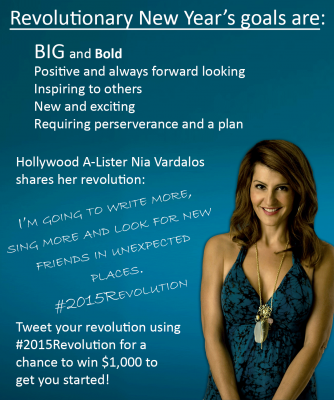 Did you make a New Year's Resolution last year? Did you make one this year? Many of us feel compelled to set a New Year's resolution, and yet the vast majority of us who set them, don't follow through and stick with them. A recent Canadian poll conducted by Kellogg's Canada found that a mere 23% of Canadians admitted that they made a resolution at least one time and kept it, while 87% don't actually think that they will or can make good on their promise(s) to themselves.
The majority of Canadians (62 per cent) surveyed agree that resolutions are a great way for people to make changes in their lives; 70 per cent of respondents said that while they may be fun at a New Year's party, they don't actually take them seriously.
To be successful at goal setting it needs to be an ongoing process and not something that happens once per year on a whim.
I personally don't make New Year resolutions, because I don't believe in waiting until a New Year to make change in my life or set goals for myself.
When it comes to setting goals, I set one large goal with no time frame, and mini goals to acheive, with each working towards my long term goal.
While we are only nine days into the new year some of you may have consciously or unconsciously given up on your goal for the new year. Kellogg's Special K has teamed up with Academy Award and Golden Globe nominee, Nia Vardalos (Star of My Big Fat Greek Wedding and its upcoming sequel) to help Canada ring in the New Year with a promise to be positive.
By the time Blue Monday rolls around, most resolvers like me have fallen back into our old habits," explains Kellogg's Special K Canada Revolution Ambassador, and revolutionary breakthrough star of My Big Fat Greek Wedding, Nia Vardalos. "I think we all know, deep down inside, that a Resolution is less a promise we intend to keep and more a promise we expect to break when no one is looking. Let's face it — resolutions don't work. It's time to try something new, bold, positive and different."

"Revolutionary goals are big, inspiring goals that we can achieve by mixing positivity, perseverance and a plan filled with small steps leading to the finish line. Revolutions are equal parts journey and destination. They start with a crystal clear vision and are powered by a detailed road map towards fulfillment.
Remember, setbacks are common when making any lifestyle change. Forgive yourself, get back up and remember stay positive.
Until, January 30, 2015 whenever Canadians share their revolutionary goal on Twitter using the #2015Revolution hashtag or on the Kellogg Canada Facebook Page, they will be entered to win one of three $1,000 prizes to help achieve their goal. To get inspired and read the revolutionary goals of others shared across social media, Canadians can also visit www.specialk.ca or follow on Twitter: @SpecialK_CA.
There is a limit of one (1) Facebook Entry per person /Facebook Account for each Contest Post made by the Sponsor during the Contest Period. There is a limit of one (1) Twitter Entry per person /Twitter Account, per day during the Contest Period. Each Entry must contain a unique message that describes the Theme.
Remember to set short-term and long-term goals. Make sure they are realistic. If your goal is to lose 50 pounds in a year, that would be a good long-term goal. A short-term goal would be to try and lose a pound a week. If you want to start eating healthier, a good short-term goal would be to replace the potato chips you normally eat with a healthy snack- like Kellogg's Special K Cracker Chips.
How Kellog's plans to help you eat healthy in 2015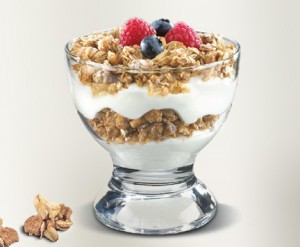 To help Canadians get 2015 off to a positive start and stay positive throughout the year, Kellogg's Special K offers a wide range of delicious, nutritious and convenient breakfast and snack solutions designed to make it easy to stay on track towards their goal.
Since breakfast is the most important meal of the day, Special K has many options to start the day off right with healthily and delicious products!
Kellogg's Special K Low Fat Granola Cereal – with half the fat of the leading granola is perfect eaten alone with milk or as a topping on your favorite yogurt. My husband enjoys a bowl with just milk.
For those of us that skip breakfast, Kellogg's Special K Protein Shakes in Chocolate, Strawberry, Vanilla, Café Latte and Mocha flavors help shake off hunger without sacrificing taste. Special K Protein products are designed to increase daily intake of protein and fiber while managing caloric intake. Carefully blended with 10g protein, 5 g fiber, and as much caffeine as a cup of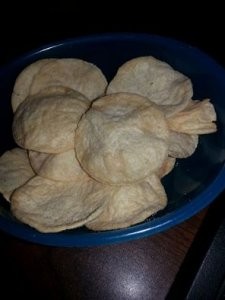 coffee the mocha flavor shakes were the perfect brunch filler for my husband over the holidays.
Keeping the munchies at bay during the middle of the day can be challenging, especially when you are trying hard to avoid junk food. New Kellogg's Special K Protein Bars in Double Chocolate and Peanut Butter Chocolate flavors help satisfy hunger on-the-go and they are a healthier choice than reaching for that Cookies 'n' Cream Bar from the work vending machine. Two of my personal favorite, Special K Cookies & Creme Flavour light and crispy pastries contain 100 calories compared to the 220 calories in a 1 bar serving of Hershey's Cookies 'n' Cream Bar.
Kellogg's Special K Cracker Chips are perfect for when my savory snack craving hits. Special K Salt & Vinegar flavor chips are a light, delicious vinegar and salty change to the potato chips my husband and I usually enjoy. 18 chips contain only 80 calories compared to the 280 calories found in the potato chips we normally eat.
To learn more about the complete range of Kellogg's Special K products, visit SpecialK.ca.
ABOUT KELLOGG CANADA INC.
Driven to enrich and delight the world through foods and brands that matter, Kellogg Canada is the leading producer of ready-to-eat cereal in Canada. Every day, our well-loved brands nourish families so they can flourish and thrive. These include All-Bran*, Kellogg's Corn Flakes*, Corn Pops*, Eggo*, Froot Loops*, Kellogg's Frosted Flakes*, Kashi*, Kellogg's* Two Scoops* Raisin Bran, Mini-Wheats*, Nutri-Grain*, Pop-Tarts*, Pringles*, Rice Krispies*, Special K* and Vector*. Through our Breakfasts for Better Days™ global philanthropic initiative, we're providing 1 billion servings of cereal and snacks – more than half of which are breakfasts – to children and families in need around the world by the end of 2016. To learn more about our responsible business leadership, foods that delight and how we strive to make a difference in our communities around the world, visit www.kelloggcompany.com. To learn more about Kellogg Canada's efforts in these areas, please visit www.kelloggs.ca.
ABOUT THE KELLOGG'S SPECIAL K NEW YEAR'S REVOLUTION POLL
On November 13th, an online survey was conducted among 1,008 randomly selected Canadian adults who are Angus Reid Forum panelists. The margin of error—which measures sampling variability—is +/- 1.96%, 19 times out of 20. The results have been statistically weighted according to the most current education, age, gender and region Census data to ensure a sample representative of the entire adult population of Canada. Discrepancies in or between totals are due to rounding.