For anyone living with someone under five years old, Peppa Pig will be very familiar. For those unfamiliar, Peppa Pig is a four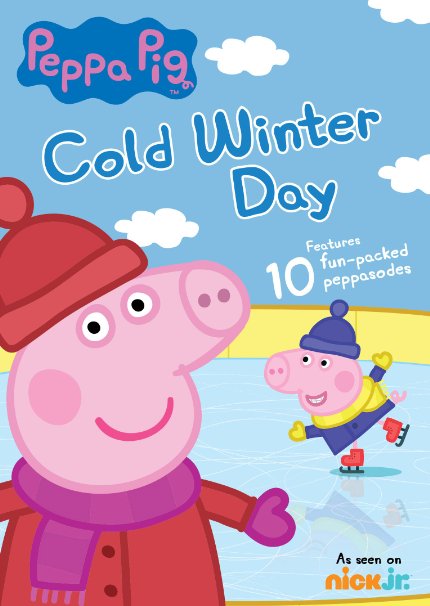 year old pig with a very loud oink. She lives with her two year old brother George, Mummy pig who works at home on her computer and Daddy pig who works as a architect. Each of her friends is a different kind of animal — with a last name matching the type of animal each is.  A global sensation, the show airs in 180 countries around the world and is translated into 40 languages. On the DVD front, eOne  has released "Peppa Pig Cold Winter Day" just in time for the holiday season.  The DVD features an assortment of episodes featuring the adventures of Peppa and friends. It is the perfect gift for the preschooler on your gift giving list.
In Peppa Pig: Cold Winter Day, preschoolers favorite pig, Peppa Pig, is ready to show preschoolers how much fun awaits this winter season.Young viewers join Peppa and her family and friends as they build a snowman, throw snowballs, race their sleds and much more! The new release features 10 "peppasodes" that are filled with all the kindness, laughter, and gentle life lessons that make Peppa Pig one of the world's most beloved preschool properties.
Episodes include:
Cold Winter Day– It is a very cold winter day, and Peppa and George head to the park to play. All the puddles have frozen over, so the two must think of other ways to entertain themselves.
Not Very Well– Peppa is ill and has red spots all over her face. Dr Brown Bear tells her she will be fine but she must stay in bed.
Snow- It is snowing, so Peppa and George go outside to play and have fun in the snow.

Thunderstorm– Peppa and George are having a picnic, when a thunderstorm starts. They go inside the house but Daddy Pig has to go back out to get Peppa's teddy as she has left him in the garden. Peppa decides she loves thunderstorms as they leave behind lots of muddy puddles.
The Sleepy Princess (Peppa and her family go camping in the countryside. / It is bedtime but Peppa isn't at all sleepy so Daddy Pig tells Peppa and George a story about a pretty princess who lives with King Daddy, Queen Mummy and the Small Prince in a big castle.  )
Bedtime-It's nearly bedtime. Peppa and George play outside then they are called in for their bath. After that they brush their teeth and get into bed so Daddy Pig can read them a story. Soon they are fast asleep. Mummy Pig and Daddy Pig finally sit down to watch television, but it's been a long day and they are very sleepy too.
Swimming- Peppa and her family are at the swimming pool. George is a little worried at first but is soon splashing happily with his friend Richard Rabbit.
Daddy Pig's Office- Peppa and George visit Daddy Pig's office and meet his colleagues. Mr Rabbit works with numbers and Mrs Cat draws shapes on a computer.

Ice Skating- Peppa and George go ice skating, but they have never been before and Peppa keeps falling over, but she soon gets the hang of it!

The Toy Cupboard- Peppa and George's toy basket is full and their beds are covered in toys, so Mummy Pig decides it is time to order a new toy cupboard. The cupboard arrives in the post, but it needs to be assembled – and Mummy and Daddy Pig are not very good at DIY. Luckily help is at hand, as Mr Zebra the Postman loves assembling flat pack furniture.
Each episode runs about five minutes. Overall, " Peppa Pig: Cold Winter Day" is  the perfect DVD for Peppa Pig fans to watch all year round, but especially in the upcoming months. Aside from Curious George, Peppa Pig is one of the most watched series in our house at the moment.
Please visit www.entertainmentone.com to learn more! Peppa Pig DVD is now available in stores nationwide.
About Peppa Pig
Airing on Nick Jr., Peppa Pig follows the adventures of Peppa, a loveable, exuberant little piggy who lives with her brother George, Mummy Pig and Daddy Pig. Peppa's favorite things include playing games, dressing up, days out and jumping in muddy puddles. All episodes are wholesome entertainment for the entire family; Peppa's adventures always end happily with loud snorts of laughter!
For more information about Peppa Pig, please visit www.peppapig.com, Facebook/OfficialPeppaPigUS or Twitter/PeppaPigUS.
About Entertainment One
Entertainment One Ltd. (LSE:ETO) is an international entertainment company that specializes in the acquisition, production and distribution of film and television content. The company's comprehensive network extends around the globe including Canada, the US, the UK, Ireland, Spain, Benelux, France, Germany, Scandinavia, Australia, New Zealand, South Africa and South Korea. Through established Entertainment and Distribution divisions, the company provides extensive expertise in film distribution, television and music production, family programming and merchandising and licensing. Its current rights library is exploited across all media formats and includes more than 35,000 film and television titles, 2,800 hours of television programming and 45,000 music tracks.