Losing a first tooth is a huge milestone for children. Pretty much everyone can remember the excitement of losing a tooth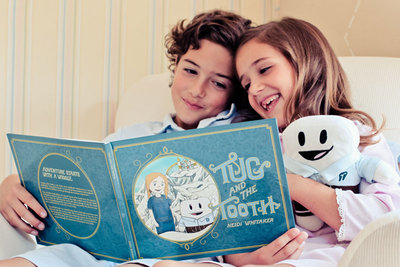 when they were a child.  "Tug and the Tooth" is a new Tooth Fairy tradition that supports and celebrates children as they go through the timeless experience of losing their baby teeth. Tug and the Tooth was created by Heidi Whitaker, to help walk her oldest daughter through the age-old milestone of losing baby teeth.
When Heidi's oldest daughter turned five, her grandmother gave her a vintage tooth pillow for her birthday, similar to those many of us had growing up. Fond memories of the old tooth pillow are what inspired Heidi to create Tug & the Tooth.
Tug is a huggable, lovable character shaped like a tooth. He comes with an adorable little backpack pocket attached to his back where your child can keep his or her tooth safely for the tooth fairy to collect. The pocket is large enough to hold coins.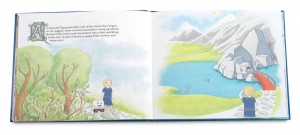 Tug comes with a beautifully illustrated story book called "Tug and the Tooth." The story is about a little girl named Liza who
discovers her tooth was going to fall out! Her dad steps in to calm her and introduces her to Tug, a lovable tooth pillow. Tug comes to life in Liz's dream and together, they go on an adventure to the Tooth Fairy's castle.
Along the way they cross paths with many animals who assure Liza that losing teeth is not only normal, but very exciting! The cow tells Liza that losing a tooth is a sign that she is getting bigger, the beavers remind her that teeth are important and need to be taken care of, and the bear shows off his impressive set of sharp teeth! Reading this beautiful story before your child begins losing teeth will certainly ease the fear that comes along with having a wiggly tooth. Not only is the story fun and inviting, but the illustrations are colorful, gentle, and impressive!
Also, inside the book is a chart where you can label when your kid lost all of their teeth; this makes it a great memento.
If you are looking for a twist on the traditional tooth fairy story, this is the perfect book and plush toy for you and your little one! This sweet gift set will start a special new Tooth Fairy tradition in your house that your kids will always remember.
Although my daughter still has a couple of years before she loses her 1st tooth, I know exactly what she'll be using when they start falling out. For now Tug serves as a cute reminder for my daughter to take care of her teeth.
Website: TugAndTheTooth.com