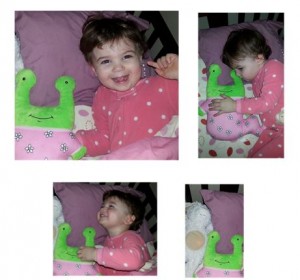 Bedtime fears – the dark, monsters under the bed, and sleeping alone – are all common fears for young children. To my 34-month-old daughter the monster that lives in the dark is very real. As parents how do we handle monster fears?
Today's Woman reviewer, Tanya swears by Monster spray. She told me to grab an empty spray bottle, and fill 'it with water and mist my daughter's bedroom at night, paying special attention to the closet and under the bed. It worked for her daughter.
If Monster spray doesn't work, Megan and Hank Champion, may have created the answer to kids monster fears with Pajama Monsters! This group of junior plush doll monsters help kids ward off things that go bump in the night, and make sure every room is safe and sound before bedtime.
Characters include "Stinky," the ringleader, "Nipper," "Daisy," "Vincent" and "Fluffy." Each monster has their own personality. Combined with the bedtime story book, If Your Monster Wears Pajamas, these snugly heroes take kids on an imaginary adventure to make sure their bedrooms are safe and sound.
In the book " If Your Monster Wears Pajamas," Maggie and Michael have a big, ugly, annoying problem. Every night, monsters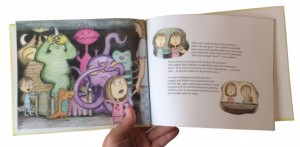 come into their bedrooms. After several nights of sleeping on the sofa, in the bathtub, and anywhere else they can find, the kids meet a different kind of monster. A friendly Pajama Monster named Stinky who, along with his friends, promises to rid the kids of their sleepless nights once and for all. In the end, Maggie and Michael make a few new friends, and realize… The boogey man is not so scary, when your best friend is a monster.
The book is wonderfully written and beautiful illustrated with images that will grab your child's attention. I did find the story to be rather verbose for my daughter's age. However the book is longer than normal books in the 3-7 age range, so that a child has time to wind-down and be reassured that there is nothing to be afraid of in the dark. Also, there is the benefit of increasing my daughter's vocabulary, because the book is longer than so many other children's books.
While my daughter has gotten over her fear of monsters or the dark just yet, with constant reinsurance that monsters are friendly, just like her new friend"Daisy," I am predicting it won't be long. She constantly reminds me that Daisy is friendly, so this mom has hope.
Leaving the bedroom door ajar, playing a CD featuring your child's name and a night light from Cloud B may also help.
Visit: http://pajamamonsters.com