Children learn many skills through imagination, from interactive play, and independent play, to language and cognitive skills. Another important aspect of dramatic play is learning to think symbolically. Children who play dress-up together also learn to cooperate as they work out their imaginary scenarios.
Research reveals that children who are actively involved in pretend play are proven to be more original, and spontaneous, and can easily adapt to new situations. Playing pretend also helps young children learn the difference between what is imagined and what is real.  Young children also build their vocabulary as they participate in imaginative play.
Pretend play and dress up are wonderful ways to allow your child to dream and act out all sorts of fun adventures through role-playing.
A crown and a wand do wonders to capture the imagination of the little girl who dreams of being a princess.  For a toddler, a simple laundry basket can be creatively changed to a huge sailing ship as they sail away with fellow pirates.
Anything is possible in an imaginative world. This Christmas make your children's imagination come alive with award-winning Great Pretenders costumes and accessories. Great Pretenders products by Creative Education are made with durable, premium-quality materials and exceptional workmanship.
Great Pretenders (Creative Education) is constantly on the hunt for great fabrics, trims, and findings which can be transformed into inspiring pretend-play toys for children. Great Pretenders provides a great variety of all sorts of different types of costumes and accessories to choose from.
Costumes come in designs such as superheroes, pirates, medieval collections,  dragons, storybook princesses, and fairies just to name a few. Great accessories such as crowns, tiara sets, swords, and shields also can be found.
This Christmas add some stocking stuffers with flair to her stocking. From hair accessories, shimmer crowns, wands, coin purses, jewelry, and more, these assortments are sure to enliven pretend play wardrobes everywhere.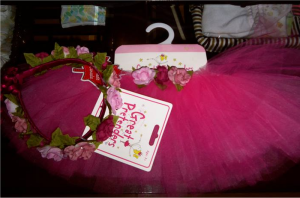 Every young girl dreams of being a princess and playing pretend as a princess seems to be a rite of passage for girls. Christmas is a great occasion to get that special little girl a toy box or dress-up trunk filled with princess-themed clothing like the "Sleeping Cutie Dress." An under-the-bed plastic storage box also works well for dress-up costumes or an old vintage suitcase painted.
Made of  100% polyester the "Sleeping Cutie Dress" features a stiffened white collar and an off-the-shoulder cut.  Girls' dress-up costumes have come a long way in recent years, the satin bodice utilizes velcro enclosures at the rear so young girls can pull their princess dress on and off all by themselves. As your preschooler learns how to take off and on her dress, she develops an ability to dress and undress herself.
The dress also features contrasting gold sequin trimmings and a pink glitter skirt to double down on the brilliance. The dress is also fully lined for a comfortable fit.  If your daughter has sensitive skin like my daughter does she may want to wear it over her other clothes.  Not only is the dress perfect for pretend play, but it would also be perfect for a princess-themed birthday party.
Before ordering measure your daughter, and record her measurements. Compare these with the ones listed on the sizing chart found on the  Great Pretender website.. You'll want something with a little room to grow in, so that the dress stays comfortable for a while. Our  "Sleeping Cutie Dress" was rather big on Miss P, so we plan to put it up until next year when she's more into pretend play.
Tutu costumes are a popular dress-up option for little girls. A tutu is also quickly becoming the most popular photo prop for babies.  The soft tulle skirt that my daughter can be found wearing in last year's Christmas photo is delicate yet machine washable – a perfect dress-up combination for aspiring Ballerinas or a cute photo prop for first birthday photos!
The 1/2″ wide elastic allows for additional sizing flexibility and comfort at the waist. I ordered a size xs too small, which was big but easy to adjust for the sweet photo of my granddaughter pictured right.  Accent with a Rose Garland Halo. Pretty pink colored fabric roses and green fabric leaves are accented by long ribbon ties, finished with sparkling plastic gem beads. The perfect sweet accessory for dress-up playtime or photos.
Your little girl will enjoy hours of playtime dressing up in a fit for any princess. What will your child be today? With a wardrobe of dress-up clothes at hand, they can be anything they dream of.
Make sure to visit greatpretenders.ca this Black Friday!! Any orders on Nov 28 will receive one of the BONUS accessories sets pictured below.
Shop greatpretenders.ca