Best known for their colorful, easy to manipulate building blocks, Mega Bloks take things to new levels time and time again, by introducing new ways for kids to play with their products. Mega Bloks grow with the popular trends and feature licensed characters such as Skylanders, Despicable Me, and SpongeBob SquarePants. While most Mega Bloks sets are made to interest both boys and girls, some sets are designed for a specific gender. If you have a girl in your life that loves Mega Bloks and Barbie, then the Mega Bloks Barbie Build 'n Play Fab Mansion just might be the perfect gift for her this Christmas. Recognized as one of this year's leading toys for kids, the Build 'n Play Fab Mansion, is an example of Mega Bloks' commitment to both creativity and attention to detail.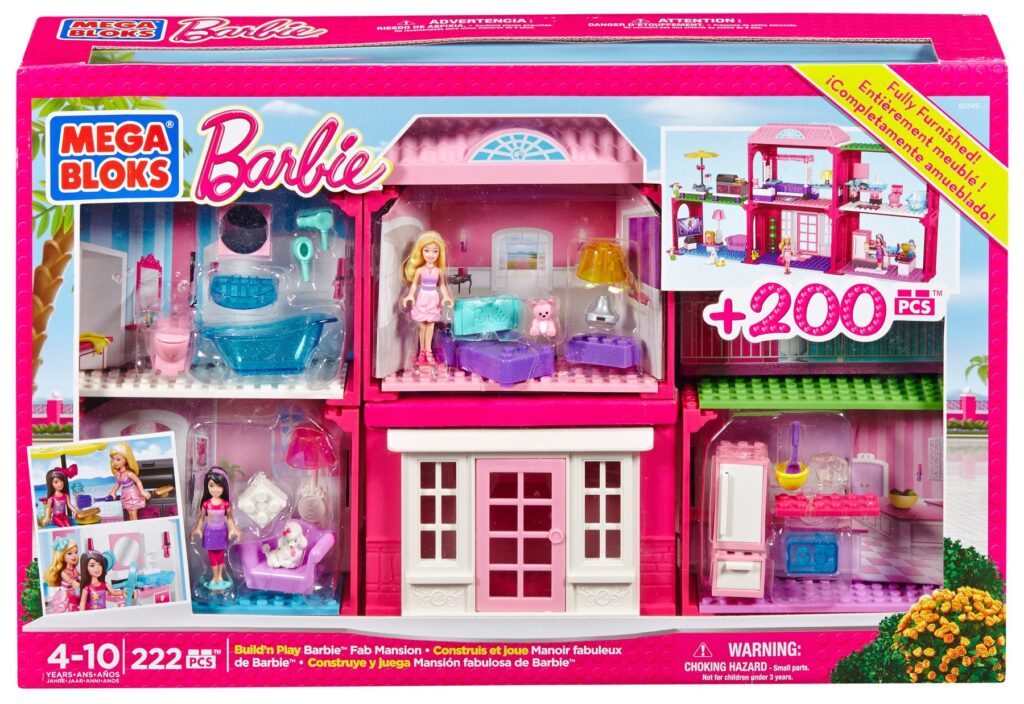 From a big-screen TV to a hairbrush, hair dryer, pillows, canopy bed, barbeque, drinking glasses, and even a dog bone and bowl, Mega Bloks has thought of it all. The set comes with two mini fashion figures, and a little adorable poodle, plus lots of accessories for dressing up and styling the figures. Many of the pieces are very tiny, so they should be kept away from younger siblings, who may still put things in their mouths. Other dolls can be added to this set, as well as additional Mega Blok play sets, enabling you to build an entire world of fashion and fun.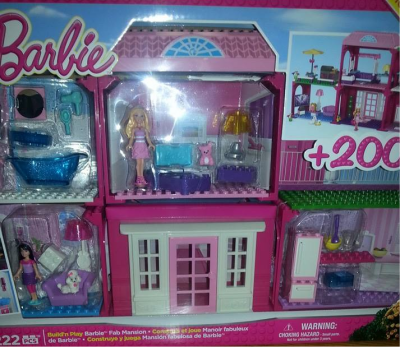 The Fab Mansion is rather easy to build, though younger children may need mom and dad's assistance. Included with the set are large, clear, colorful step-by-step instructions to assist with assembly.
Once built, the Fab Mansion features five fully furnished rooms: a bedroom, a kitchen, a bathroom, a living room, and an outdoor patio. Snappy modular rooms make it easy to build and decorate the perfect mansion for the Barbie and Skipper mini fashion figures. With the exception of the patio, each room is on its separate building plate, which easily slides in and out of the mansion so that your daughter can arrange the rooms wherever she wants, changing the design of the mansion each time she plays. The rooms can also be used with other Mega Bloks Barbie play-sets to build an even bigger house!
The Mega Bloks Barbie Build 'n Play Fab Mansion would make a great gift for any little girl on Christmas morning!
About MEGA Brands
A member of the Mattel family of companies, MEGA Brands Inc. is a trusted collection of leading global brands in construction toys, games & puzzles, and arts & crafts. They offer engaging creative experiences for children and families through innovative, well-designed, affordable and high-quality products. MEGA® Brands includes MEGA BLOKS®, RoseArt®, MEGA Puzzles®, MEGA Games® and Board Dudes®.
Visit http://www.megabrands.com for more information.