Looking for a delicious meal in Ottawa? With so many great Ottawa restaurants, it's impossible to say which are the best Ottawa restaurants. My son an Ottawa resident has some recommendations for the Ottawa traveler.
Located on bank street the Clock Tower Brew Pub is a two-level corner pub featuring a large patio for summer lounging. They have five mainstay beers available year-round, with a number of seasonal beers being served throughout the year. Food is a mixture of traditional pub grub and more exotic dishes.
The Fox & Feather Pub and Grill is a downtown Ottawa pub located on Elgin St. Established in 1995, the restaurant is housed in a 100-plus-year-old heritage building and spread out over 3 floors. 14 different beers from around the world are on tap and they offer a great selection of food.
Located in the historic Byward Market and Ottawa's west end, Zak's Diner, an authentic 50's style kid-friendly diner is a local favorite, featuring bright colors, checkered decor, and cushioned booths. The menu is packed with all-day breakfasts, club sandwiches, burgers, and Zak's famous milkshakes.
The Works: Gourmet Burger Bistro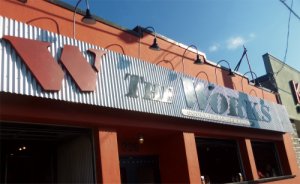 Located in Westboro, The Works is a Gourmet Burger Bistro. Named "Best Burger" in Ottawa 9 years in a row, this is the place to dine. With 68 wild & crazy Burger toppings, four bun choices, and  7 sensational Burger Patty choices from Certified Organic Beef and Ground Turkey; to Ground Beef and the health conscious Fresh Chicken Breast, Veggie Burger, fresh portobello mushroom cap, and the low-fat domestic free elk, The Works doesn't fall short on choices. For those who are starting to think gluten is everywhere- you will find a gluten-free menu just for you.  
Start your meal off with breaded deep-fried dills or how about the Works world famous Tower-O-Rings?  Crispy breaded onion rings served with 2 dipsticks for dippin' is a great appetizer.
I have previously dined at the Works in Kingston, Ontario on several occasions with my husband. This was my first time dining at The Works in Westboro. Parking is ample in the area, with lots of side streets to park on.
We dined at the Works on a busy Thursday evening and the staff were simply amazing.  We were greeted at the door promptly by a hostess, who got us a high chair, escorted us to our table, and gave us all a menu.  We were told that a server would be by shortly and she was. Our server suggested we start things off with the Tower-O-Rings appetizer and we were not let down. We ordered four drinks and a Tower-O-Rings- while waiting for our food and these were brought to the table quickly.  Our beverages were served in big measuring cups, which was quite unique.  Also, the salt & pepper were held in empty light bulbs.  I would like to give special kudos to our waitress. She was extremely friendly and went out of her way to bring some toys to the table to entertain our 17-month-old, even though the restaurant was full at the time.  She was also very knowledgeable about all of the food choices.
Our daughter had already eaten before our arrival at the Works, so we ordered her a side of sliced cucumbers. This was brought to our table promptly, so she could get started eating, while we were waiting for the kitchen to prepare our order. The wait for the food was a bit long, but understandable when the bristo is full of customers.
My husband and I are pretty boring according to the Works standards. We ordered the ho-hum and ho-hum 2. The ho-hum is your basic cheeseburger and the ho-hum 2 consists of cheese and bacon. The beef is cooked to a sizzling medium well that's still pinkish inside.  I found my ho-hum burger to be both juicy and flavorful. The portion sizes are very generous.
My son had the Johnny Be Goat- goat cheese, warm leaf spinach & roasted red peppers and his girlfriend ordered one of the Work's top ten favorites- The Hipster, which contains caramelized onions, avocado, and Havarti cheese. The Hipster is rather messy and difficult to eat, but so worth it or so I was told.
As for price, it varies from burger to burger.  Some might find it a little pricey, but we don't mind paying the price for good food and service. There is no doubt though that the Works' burgers are amazing and there is a massive selection to choose from.  The Works had done for burgers what Starbucks and Tim Hortons had done for coffee. I love that they put a spin on some old classics and make it fun to order. While I overall love the atmosphere of the Works in general, I definitely found the Westboro location to be super friendly and would certainly return.
Menchie's: Frozen Yogurt
If you are looking for somewhere to go for dessert might I recommend Menchie's on Merivale Road, which provides both indoor and outdoor seating.   Seating is fairly limited, so if you're planning on going during the summer,  beware — you might have to take your dessert to go. If you have never been to Menchie's yet, you are in for a treat!
With 52 locations in Ontario alone, Menchie's has secured its status as the go-to place for desserts.  I have been to a few Menchie's throughout Ontario and with my son living in Ottawa, I wanted to try the Ottawa Merivale Road location. The employee who was working was super friendly and asked us if we had been there before. Having not been to Menchie's in quite some time, she gave us the rundown of how things worked. She was quite informative and cheerful.
At Menchie's you can unleash your creativity at a unique self-serve station by mixing and matching any of the rotating yogurt flavors from cake batter to peanut butter and pina colada, with over 70 rotating toppings to create endless combinations. Also, you can mix two or more yogurt flavors in your cup, multiplying the tasty possibilities even further. Menchie's ensures that only the highest quality milk and flavors are used to make its frozen yogurt. Don't know what flavor you want? That's ok! You can taste it first and then decide. (The sampling cups really come in handy.)
The flavors change daily, but when we were there my son had me sample chocolate peanut butter yogurt. If you love peanut butter cups opt for the chocolate peanut butter yogurt. It is delicious.
I opt for blueberry yogurt with fresh strawberry topping and strawberry sauce, while my husband had blueberry yogurt, ripe red strawberry tart yogurt,  topped with blueberries and strawberries. The frozen yogurt at Menchie's is nice and thick and flavorful. The cup size actually serves two adults, so if you're eating a cup only by yourself, fill it just halfway for a decent portion.
At Menchie's, you "mix, weigh and pay" and I think the only downside to Menchie's is the price. At $2.04 per 100 grams, things can become a tad pricey. If visiting with children, I recommend you don't let them serve them-self. Overall, We loved Menchie's experience.  Besides seeing my son, it is just one more reason for me to visit Ottawa. For information on Menchie's Merivale location, please visit their Facebook page.
Tell us your favorite place to dine in Ottawa.